A good country pub is a joyful thing. Getting out of the city, though York is hardly a sprawling metropolis, to stretch one's legs before enjoying a pint and a hearty meal is a basic pleasure for which there is little substitute. York boasts plenty in the way of quaint pubs, many of which have some great views, but by nature a city can't really offer the sense of space and fresh air that one occasionally craves. There're some real beauties not far from York on the run over to the coast including gems such as The Fox & Rabbit and Horseshoe Inn but a little closer to the city is The Stone Trough at Kirkham Abbey.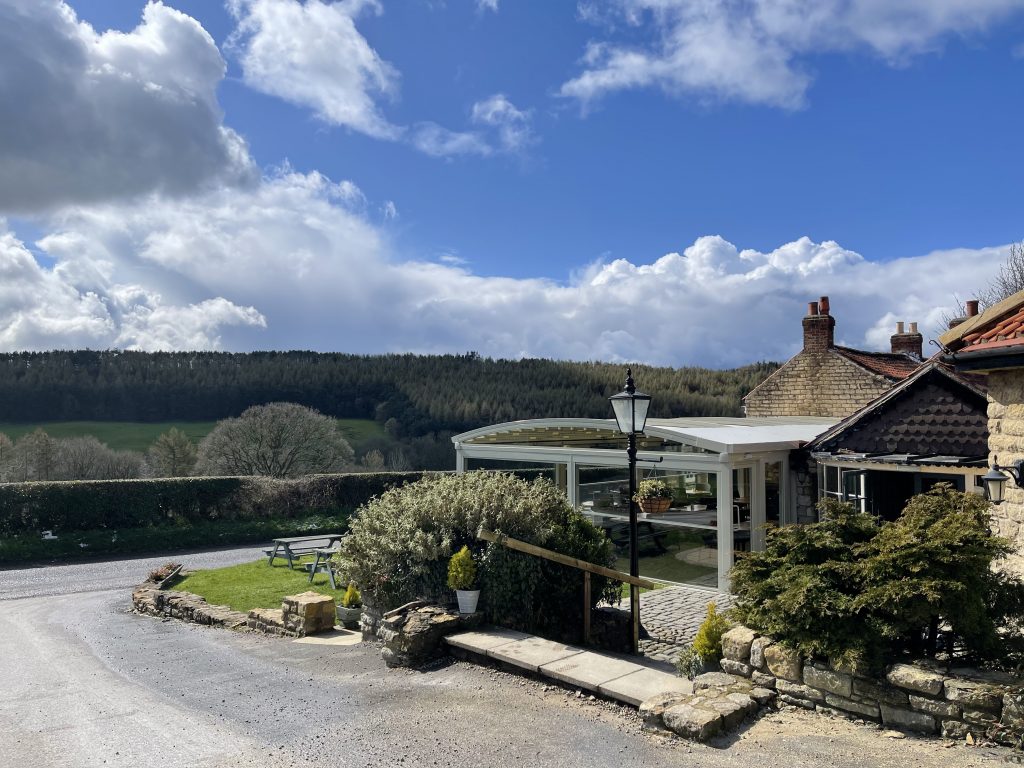 Kirkham Abbey is a peaceful spot not far from the A64 between York and Malton with impressive Abbey ruins overlooking a river, well worth a visit in its own right but the focus of this trip was another couple of hundred yards up the same road. The Stone Trough has been off my radar for a little while, in fact the last visit I made was to regain composure after attending an eating challenge not far away, and looked like a perfect fit for a leisurely lunch on a Friday.
The Stone Trough Kirkham Abbey lunch menu has a tempting range of sandwiches and lighter options, in particular a beef roll with its own dipping pot of gravy caught my eye, but I was more than happy to let the kitchen stretch its legs by ordering from the a la carte menu. The meal kicked off with scallops baked in their shell with cheese and chorizo and some cauliflower fritters served with pickled red onion and a blue cheese sauce. Both dishes were generously portioned and contained plentiful quantities of the headline ingredients, the punchy blue cheese dip and sharp pickled onion bringing the Buffalo cauliflower fritters to life with a real zing while the punch of chorizo gave life to the scallops without overwhelming things.
The selection of mains included plenty of crowd pleasing pub standards such as lamb shank, fish & chips and steak as well as a few more unusual dishes. First up for us was fish pie presented attractively with its mashed potato topping piped into an attractive topography which gained just the right amount of texture while resident in the oven. Fish pie cooked with too much austerity in mind can be a bit of a joyless experience but no such worries here with plenty of salmon, cod and prawn as well as the neat addition of grated hard boiled egg to liven up the well seasoned sauce. The other main to pique my interest was Oxtail, Beef Cheek Pearl Barley "Risotto" that promised cuts of meat suitable to turn the grain into something enjoyable, an all too rare occurrence in my experience. This turned out to be a really well balanced dish and by far the most I've ever enjoyed eating pearl barley, with the unctuous meat lubricating the grains in a very satisfying manner. Parmesan shavings and a perfectly poached egg detailed the dish nicely too making it indulgent and interesting without being different for the sake of it.
Sadly time pressures prevented a go at dessert as the child needed collecting, but that hearty quartet of dishes was more than enough to mark this out as a delightful country retreat worthy of repeat visits. The combination of good food, a decent pint, an open fire and beautiful scenery is enough to lull one into a marked sense of peace. I'm looking forward to having a go at the sandwich menu in front of the open fire imminently!
(ad – pr visit)