York might look like it's been frozen in time when viewed from many angles, but it doesn't take much scratching of the surface to start uncovering the ways in which the city has changed as buildings are repurposed and residents impose their personalities upon them. Buildings find themselves subjected to the whims of those changing requirements with varying degrees of success but occasionally over a period of years, a building will find itself pressed into service in ways that feel just perfect. Grays Court is one such building, which can boast a storied and historically significant legacy at the centre of our city but has also been pushed below its standing as part of a teaching college. The last near-decade though has seen its fortunes improve markedly under the stewardship of Helen Heraty, who has doggedly worked towards bringing this building up to the standard it deserves and it now functions wonderfully as a luxurious hotel that deserves a fine dining experience to match, which is where The Bow Room Grays Court comes in.
Adam Jackson is a name with which anyone who's serious about eating out in York is familiar, having been Head Chef at The Black Swan at Oldstead when it was awarded its Michelin Star, before opening his own restaurant. Latterly Adam has undertaken a stint leading the kitchen at The Feversham Arms in Helmsley but his appointment to The Bow Room Grays Court feels like a perfect fit for all concerned. To do a building such as this justice, dinner here was always going to be a high end affair, which is reflected in the price of the tasting menu at £100 per person, with the matched wines demanding a further £65 contribution. Those might sound like big numbers, and in isolation they certainly are, but a little digging shows they stack up with comparative experiences in York which occupy less storied buildings. I also note a number of price rises being signposted by fine dining restaurants in the city too, a situation which doesn't look like easing any time soon in the current global context.
Arriving at Grays Court is an event in itself as you duck along some of York's quieter streets to find a courtyard festooned with fairy lights across an avenue of trees before descending a couple of steps to be welcomed into the building. From there it's up to a gallery style bar area in which to enjoy a pre-dinner drink and amuse-bouche. This is one of those spaces that seems automatically to imbue one with a sense of calm as things slow down and you've time to take in your surroundings, enhanced in this case by a glass of sparkling wine and a charmingly light Lincolnshire poacher and truffle gougère to start things off. After polishing those off at a leisurely pace we were on our way through to our table in the dining room complete with personalised menu. Before the menu kicked off in earnest we were to enjoy a couple of snacks and a bread course that set the tone for the evening quite perfectly, with a venison tartare tart emboldened by capers and hazelnuts accompanying a venison ragout served under a celery foam also spiked with capers. This coupling was served across a striking bowl of foliage that, when arriving at the table, used dry ice to snake tendrils of spruce scent around us as we confirmed the balance of the snacks was as well resolved as the sense of occasion. Wild garlic is bang on season at the moment so not wholly unexpected cropping up to enhance a white onion butter that was served with a tiger bread, another exercise in restraint as neither garlic nor onion flavour dominated while both were present in quantity.
Having enjoyed that preamble, we started on the menu itself with a first course of cod, cucumber and a fennel element along with a champagne sauce, all of which harmonise beautifully to continue the sense of balance, before our next fish course of Sea Trout. This one was served with a beetroot and wasabi as well as a partnering piece of sushi giving a greater sense of scale. I've always admired Adam's delicacy of touch with heat and the wasabi cutting through the rich fish was judged to perfection here, all underpinned by hard working beetroot and a scattering of nasturtium for presentation and a little extra pep.
The meat course in a menu like this needs to be a show stopper so fillet of beef is quite an appropriate indulgence, served here with watercress as an emulsion and potato obscured by an equally appropriate quantity of truffle. A couple more nasturtium leaves helped to temper the extremes of indulgence from the beef and truffle along with a punchy sauce spiked with green peppercorns.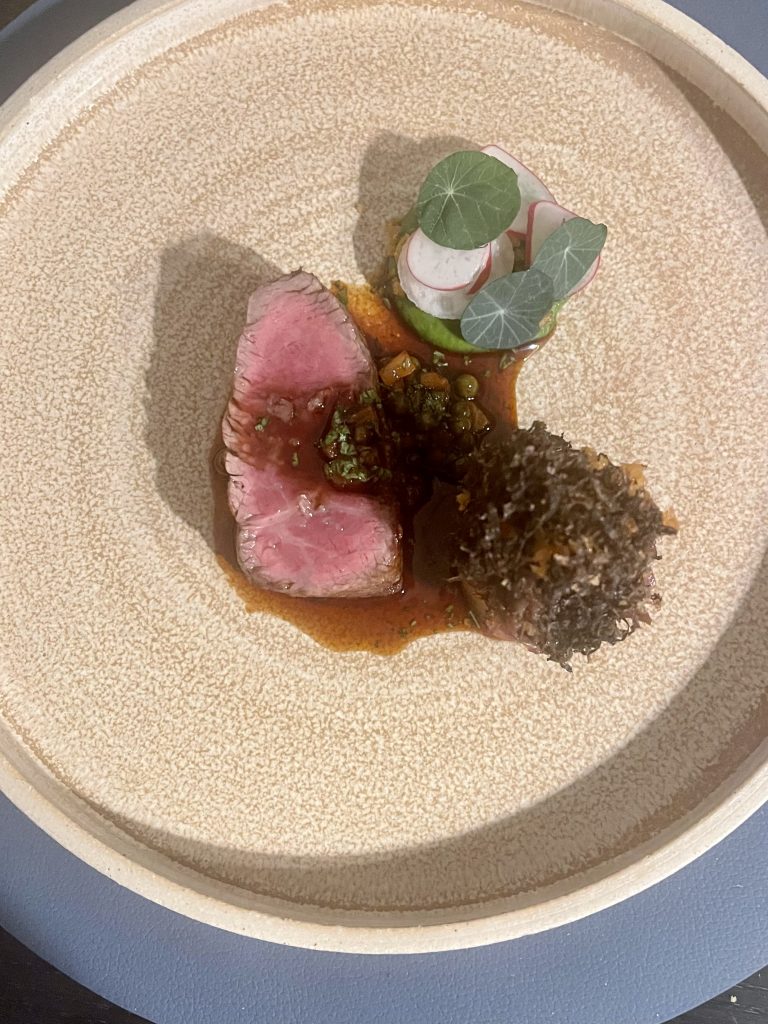 At this point we were feeling the impact of all this indulgence before embarking on desserts but a good hit of sugar from the first sweet course quickly kickstarted our digestion and had us back on track. This was another dish of two parts with an apple cake in the lid of the serving vessel giving way to ginger and rhubarb in the bowl. Our last course balanced bitter dark chocolate with armagnac and prune sandwiched between two sugary crisp sheets with a flourish of edible gold for good measure. The wines that went along with each dish were a an original selection featuring an orange wine, a Georgian wine and a particularly well matched Hungarian Tokaji to bring out the best of the ginger, apple and rhubarb course.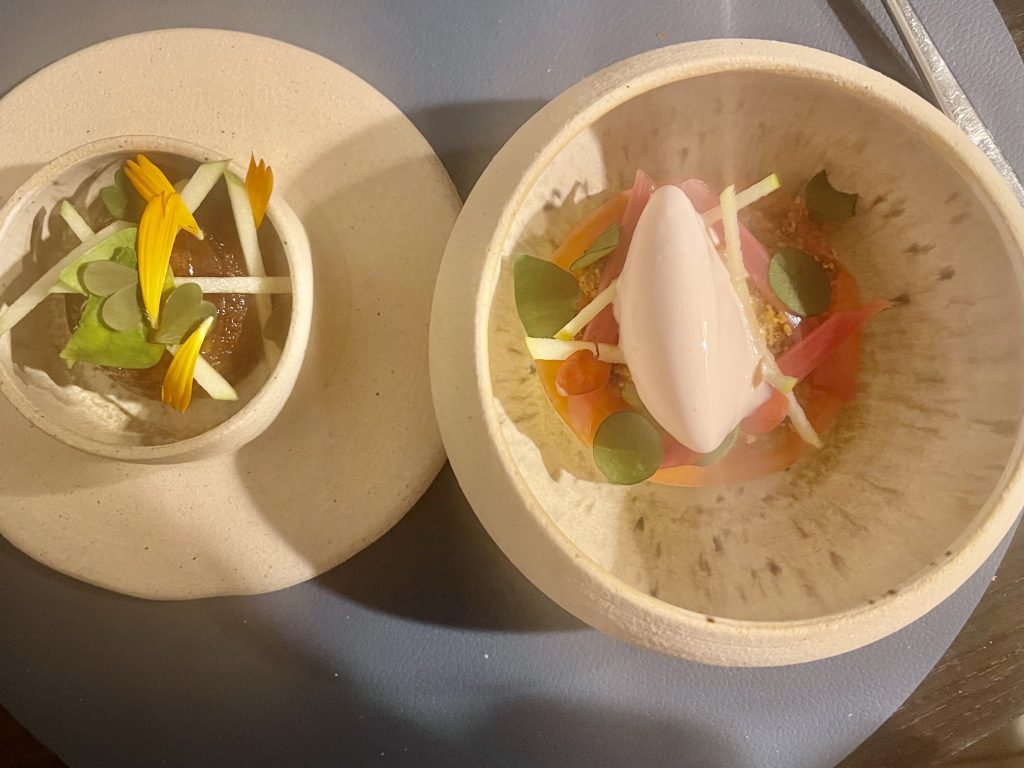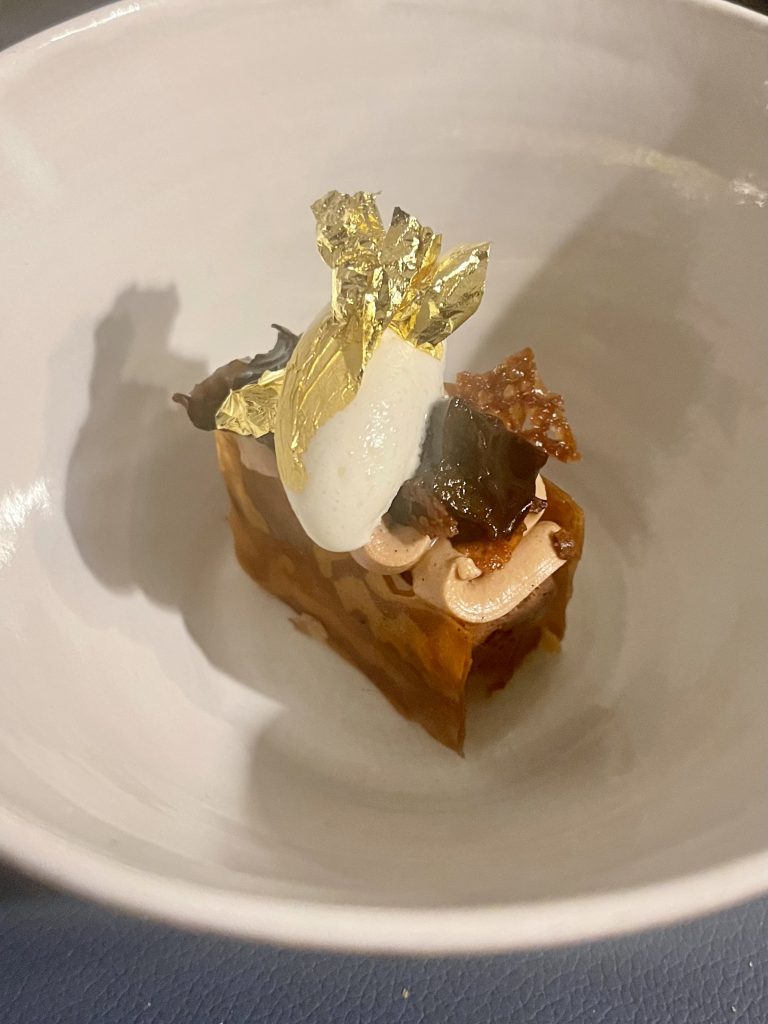 Repeating that these dishes are well resolved, balanced, refined and generally executed with precision, detail and maturity has become a bit of a theme throughout this piece and sums up the experience nicely. There's a strong sense of unity between space, location, service, approach to sourcing and cooking that speaks of a team working well together in a space that elevates an experience that already feels special. Many times in the history of York buildings, spaces and concepts have struggled to integrate with one another into something cohesive but The Bow Room at Grays Court is the antithesis of this. It can very happily count itself amongst the very best the city has to offer already, with a sense of more to come too.