Some of the at home experiences I've tried over the last year have provoked wildly varying perceptions of value amongst my peers, some relishing the opportunity to indulge at home and some assuming that savings hadn't been passed on and that prices were too high. One box that's available nationwide comes from Opheem in Birmingham fame and packs in value that's impossible to argue with. Aktar Islam at home offers a range of curries and sides that can make up a feast a decent sized group or a selection to freeze for several meals. While the dishes change regularly, the value doesn't seem to…£70 for 8 dishes and 3 sides from a Michelin starred kitchen is quite remarkable.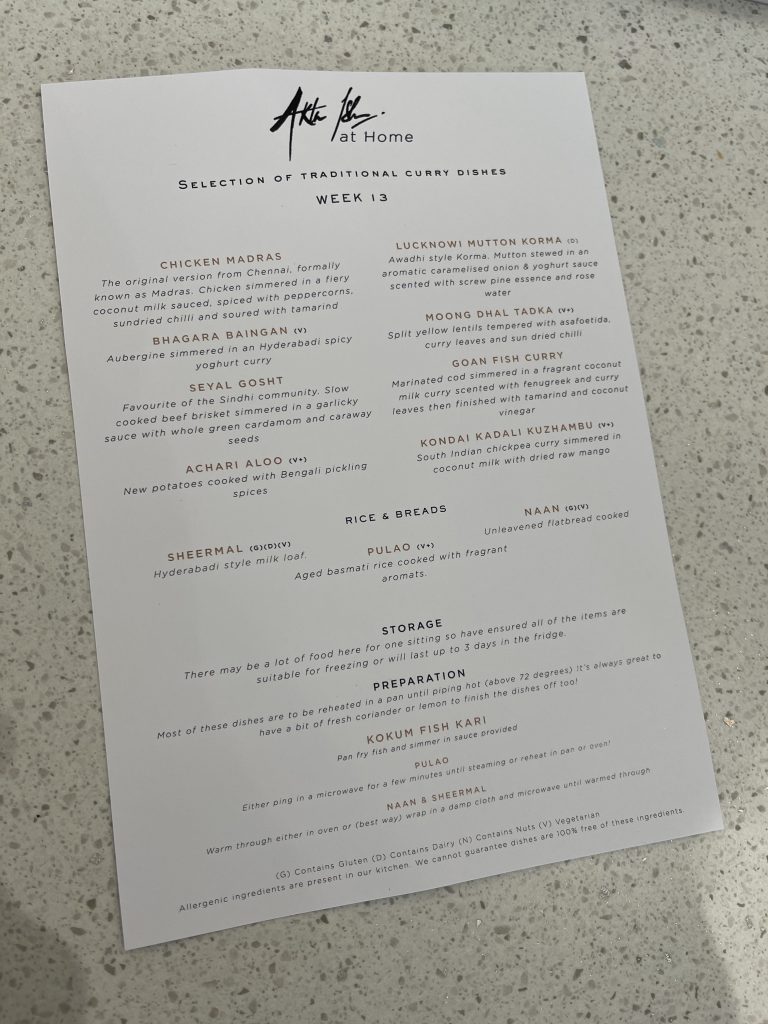 This value along with praise from much of the press has led to a predictable supply shortage so we had a few weeks in which to anticipate the Aktar Islam at home delivery, which on first sight represented phenomenal value. It's billed as a generous feast for four but with eight portions each hitting around 500g, it'd comfortably do four very generous meals for two. We started by sharing a Goan fish curry, which required the most effort to prepare. This amounted to no more than searing a couple of fillets of fish before pouring over curry sauce to finish and when plated up with a good sprig of coriander and one of the four included naan breads, it was a really superb entry point to the selection. My very high expectations for this were comfortably exceeded at the first time of asking, rich deeply flavoured curry sauce and fresh fish meeting perfectly judged spicing for a blockbuster start.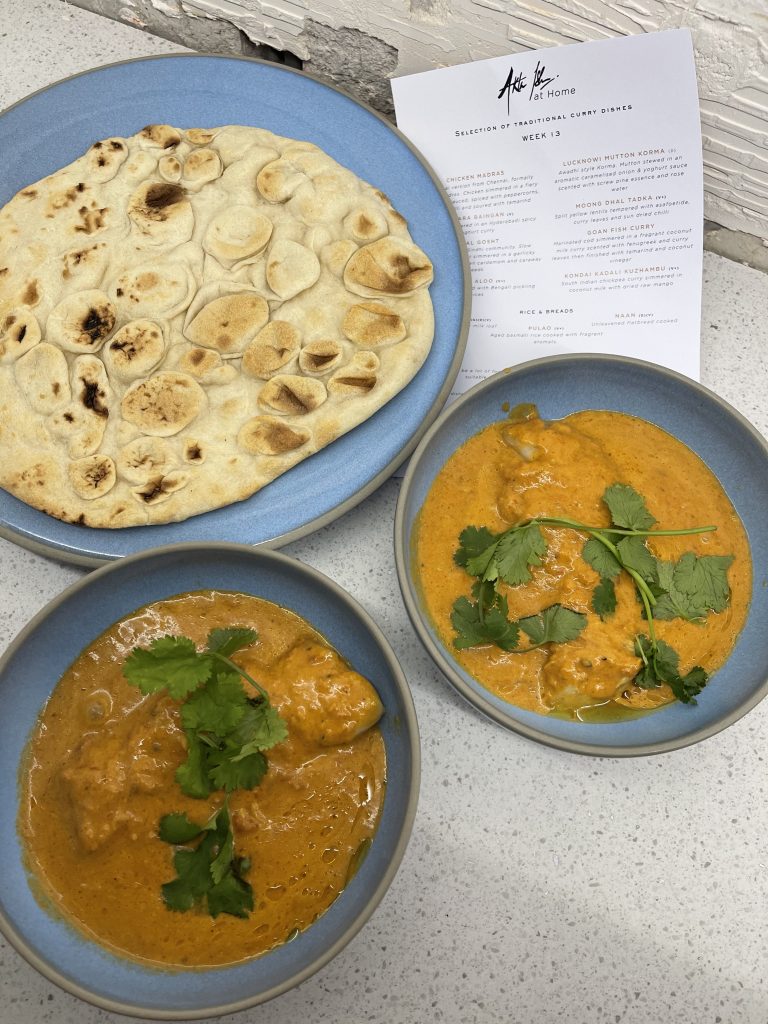 Mutton Korma and Chicken Madras both did a superlative job of distancing themselves from the typical British curry house versions of these dishes, the Korma being very far from the luminous blandness that you can end up with and the Madras having generous amounts of heat without turning into a test of endurance rather than enjoyment. Both of these dishes exhibited a striking balance of big flavours and more nuanced flavours, definitely a cut above.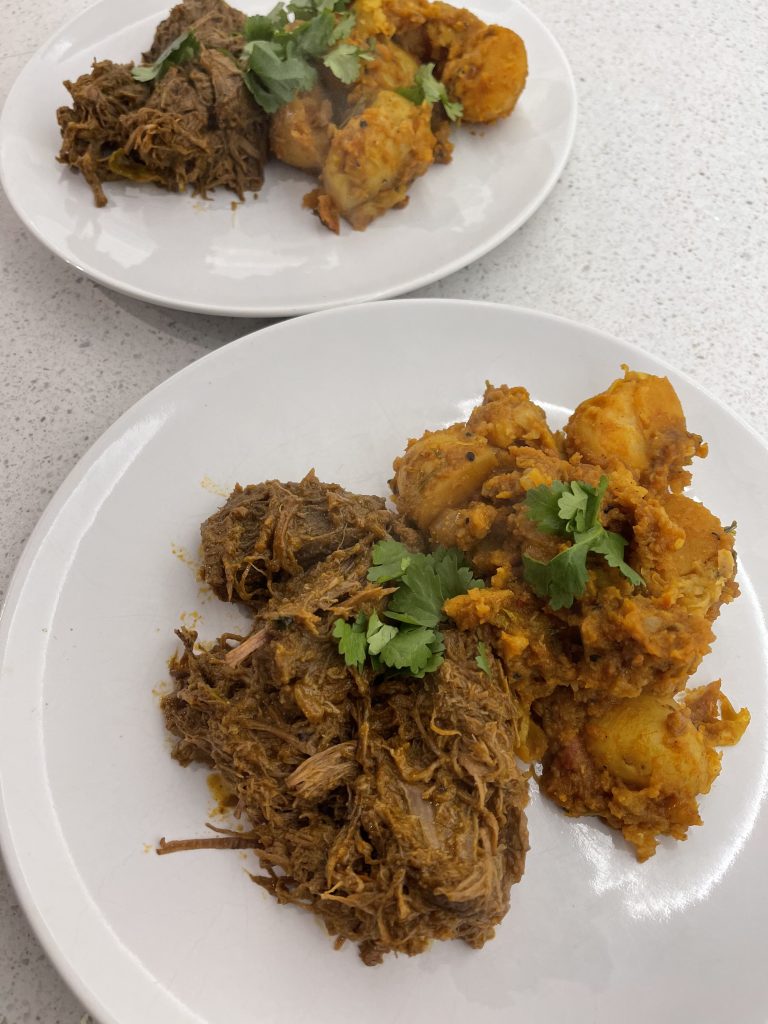 For another meal we coupled Seyal Gosht and Achari Aloo, with slow cooked beef brisket and new potatoes headlining. This pair had a fierce heat that was pushing toward the limit of my moderate tolerance for spice but also predictably bold flavours that lived up to the spicing. The potatoes cooked in Bengali pickling spices working themselves up into a memorable dish while the brisket had been cooked as slowly as needed to realise the meats potential.
The accompanying breads and rice continued the strong showing, Hyderabadi style milk loaves being soft and light, incidentally work very well for a bacon sandwich pepped up with sriracha and coriander. Naan breads and aromatic basmati rice held up their end of the bargain too.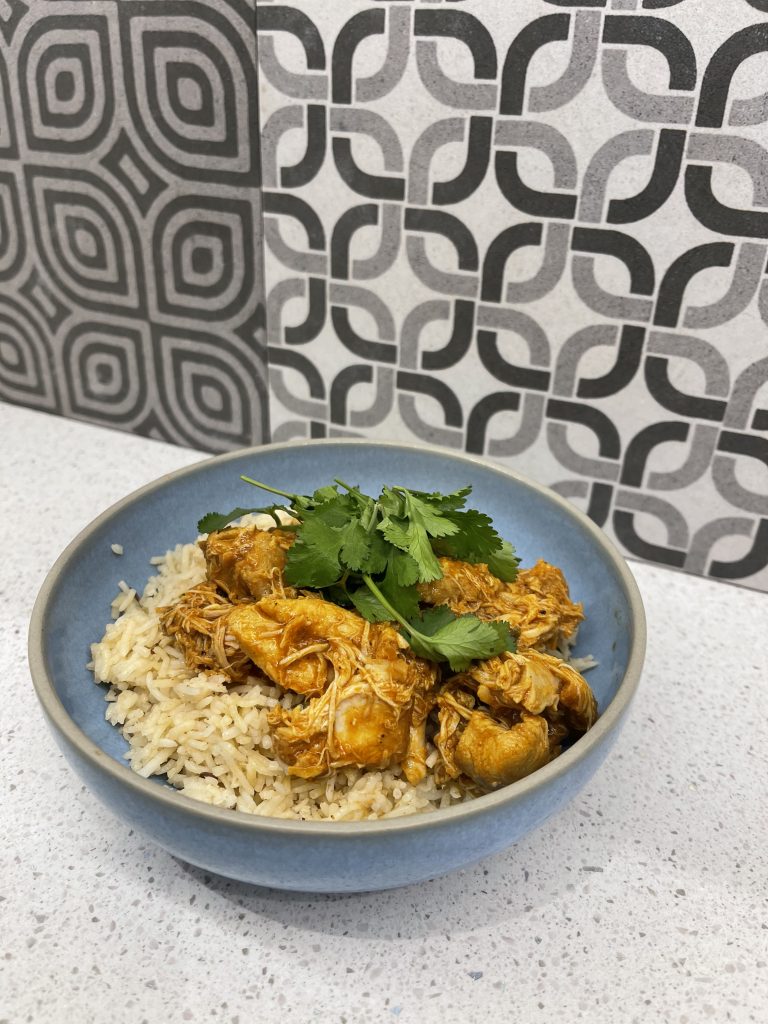 I'd ordered this on the back of almost hyperbolic praise from a number of people I know to be have good taste which turned out to exactly praise that this box deserves. The combination of value, quality, convenience and flavour is hard to argue with, making this a true highlight amongst the at home offerings that the last year has necessitated. It's comparable in value to the local curry house while throwing in a big whack of refinement too, which admittedly isn't always desirable. I'll certainly be grabbing one periodically to keep the freezer stocked with top notch curries at quite remarkable prices.