This is one of the hardest pieces I've had to write. It seems ludicrous as I sit in my living room today with life changed drastically and many operators in the hospitality industry in tatters. It hardly seems like any time at all since I was out and about enjoying great food. The last few days have been spent in a whirlwind of social media as I try and help share the plans of local businesses who are desperately reinventing their businesses, trying to safeguard their own and their staff's livelihoods. I've also been considering how appropriate it is to continue publishing content based on events that took place before things deteriorated so much. The consensus on social media seems to be that there's still a place for this and I agree that there remains plenty to write about, and the need to share it is greater than ever.
Rudy's Pizza is situated on New Station Street right in the centre of the city in a former bike shop a conveniently short distance from the train station for a trip from York. It's one of five restaurants based around Leeds, Manchester, Birmingham and Liverpool that, predictably enough, specialise in pizza. The space they're serving in is airy and casual, successfully designing in a nice buzz on our lunchtime visit, which took place only a couple of weeks into their tenure in the building. Indeed it was hard to believe that their Leeds opening was so recent given how busy it was. They seemed to have adopted a strategy of giving over table service for reservations while keeping back counter seating for walk ins, a neat compromise.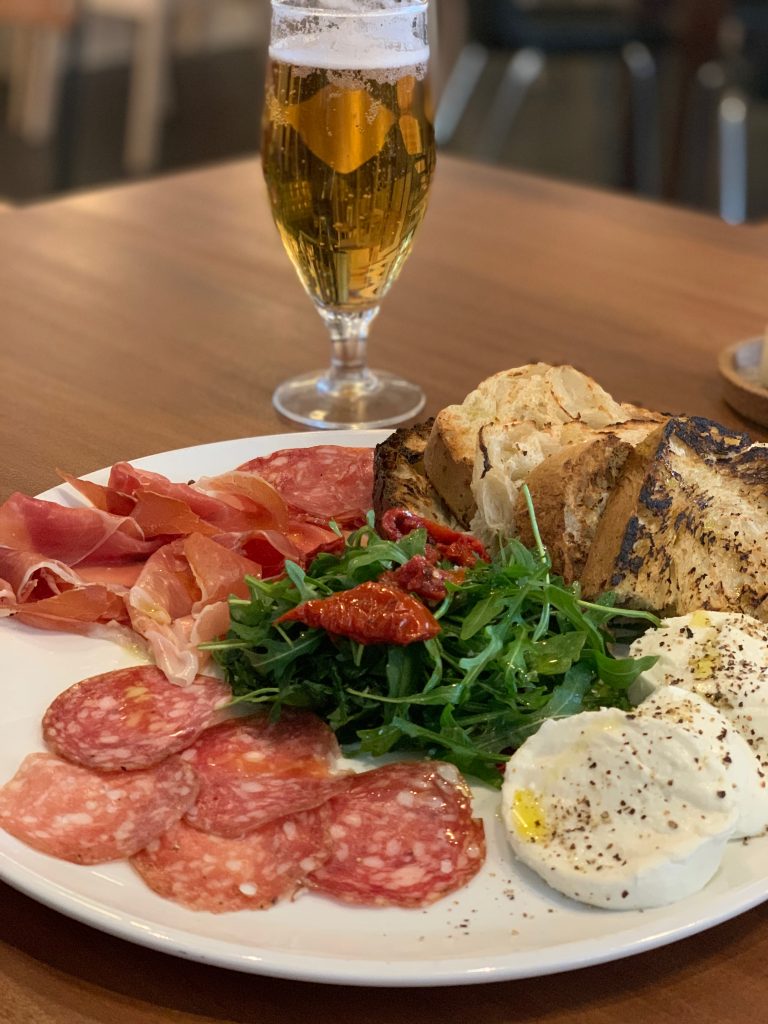 We picked a sharing "Campana" platter to start the meal which gave us a selection of cured meats to distribute between us along with a generous helping of mozzarella and bread. Perhaps the salad could have done with one or two more sun-dried tomatoes, but this was a fine start to the meal, the wild boar salami in particular provoking a number of justifications as to relative deservedness of the last mouthfuls.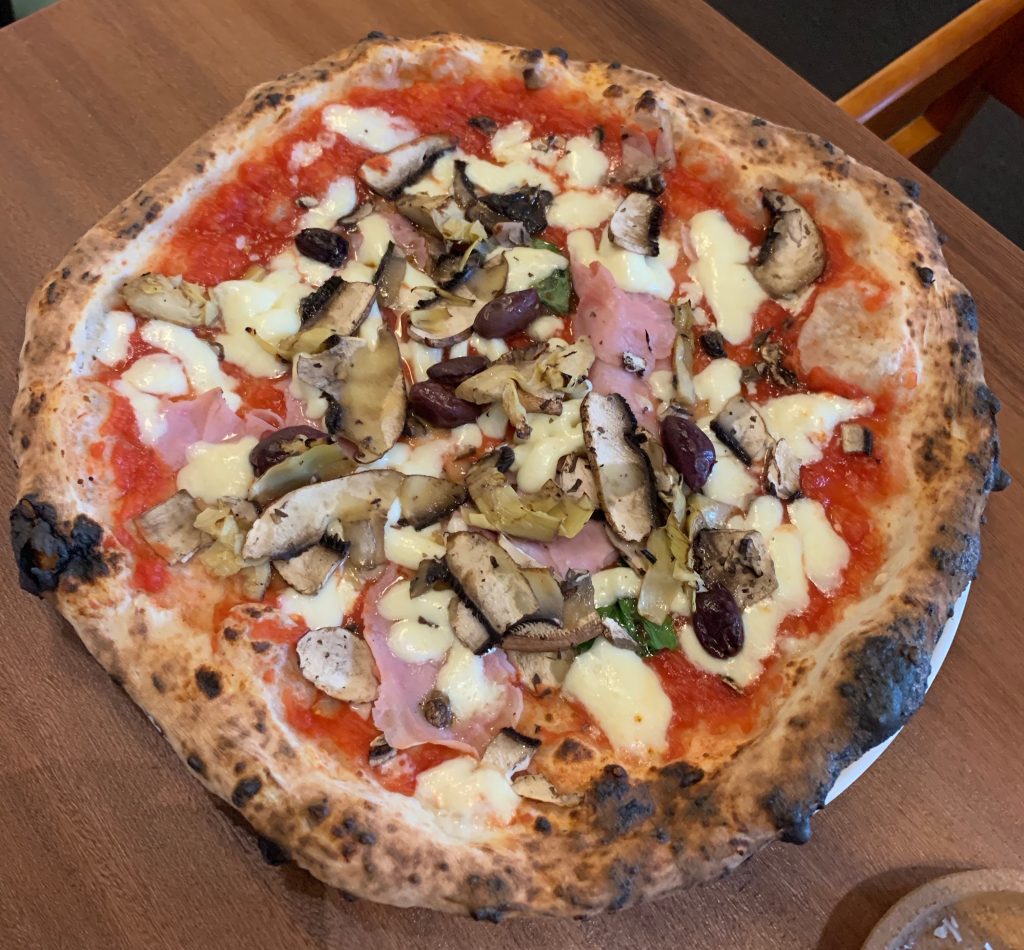 Obviously pizza was always going to be the centrepiece of this meal and thankfully lived up to our high expectations. We went for a Capricciosa and a Portobello, taking the suggestion for the latter to be a white pizza. Pizza toppings are pretty irrelevant if the standard of the base falls short, a fault end that proliferates amongst delivered pizzas which fall into the category of "guilty pleasures not to own up to". The crusts at Rudy's Pizza display a decent amount of blistering and char, making them more than just a a sideshow for toppings. Speaking of which, there was no evidence of scrimping here either. Just good quality ingredients left to their own devices in a super hot oven for a short period, given their best opportunity to shine. The combination of fresh vegetables and prosciutto with tomato on the Capricciosa sang a good tune while the Portobello hit entirely different notes with the lack of tomato setting it well apart from its companion pizza.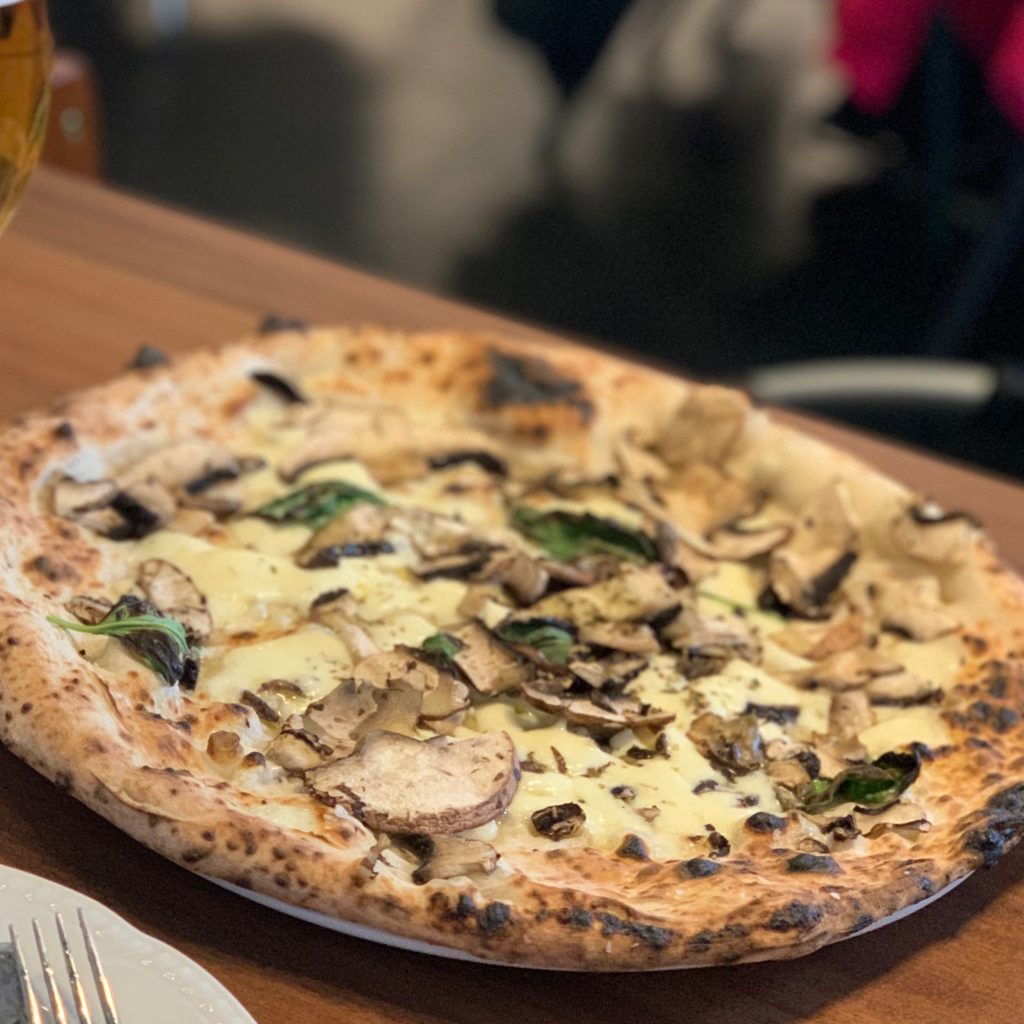 With none of the pizzas breaching £9 and that starter platter less than £8 this was cracking value, the addition of a couple of beers bringing the total to around £40. Rudy's Pizza is a great addition to the Leeds food scene that deserves to become a regular for anyone who enjoys decent pizza. Sadly, as of today that can't be the case. When I started writing this, takeaway was still available but such is the pace of change at the moment, that's no longer the case. Over the coming weeks and months, it'll become clearer how food and hospitality can exist most effectively in these disconcerting times, by which point I'm confident many of us will fancy a pizza. I don't doubt that the guys at Rudy's are extremely anxious for both their own and their industry's future. As ways emerge for us to show support, we must make sure we do so in any way we can.
Disclaimer: No charge was made for this meal. Opinions are impartial.