It'd never occurred to me to attempt my own sushi until I happened to see some friends making a go of it on social media a few weeks back. I wasn't quite organised enough to get hold of the ingredients and kit needed but in a fortunate twist of fate, I was invited to try out Sushi with York Cookery School, their new sushi course. It's been far too long since I've eaten any sushi so I didn't need asking twice and was happily on my way to their site at Clifton Moor before long.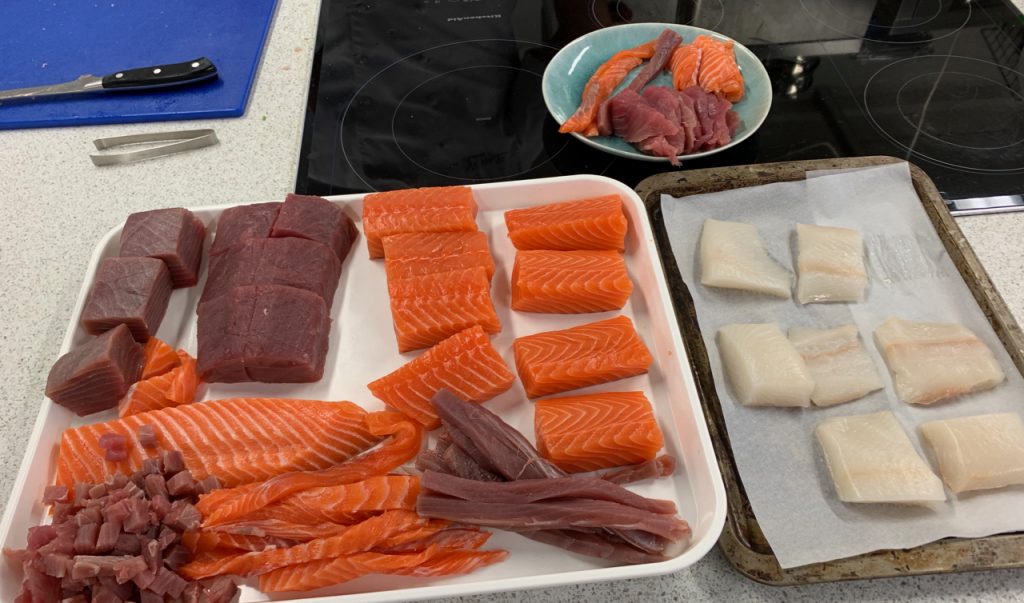 York Cookery School has been teaching the good people of York the finer points of cookery since 2012, using a variety of well regarded tutors to provide characterful and informative courses. I've attended before to learn about fish cookery from the incomparable Steph Moon so had a good expectation of how the day would pan out. The tutor for the sushi course would be Dan Graham whose CV includes making the final of Masterchef: The Professionals and a stint at Malton's well regarded Talbot Hotel as head chef. He gained his sushi skills at a high end restaurant in London from a Sushi Master and recently placed well in the Kikkoman Masters competition, plenty to suggest he knows his subject!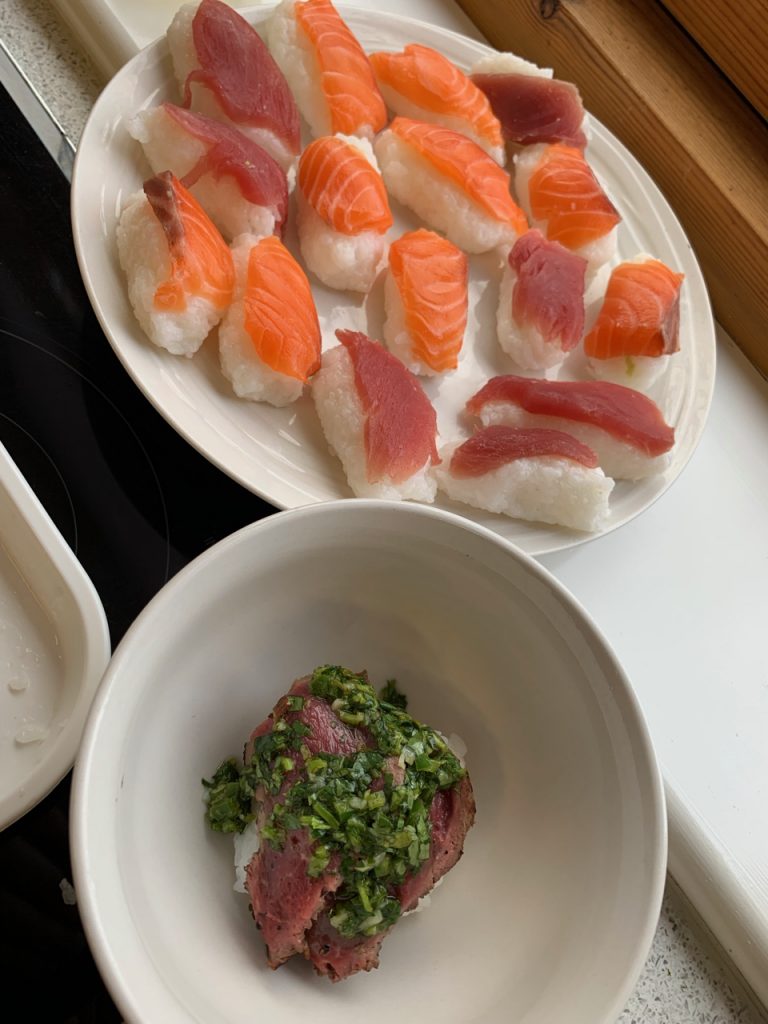 The four hour York Cookery School sushi course packed in a lot of detail, starting with a chat about the care and effort that goes into sushi rice. Dan had thoughtfully pre-rinsed our rice and weighed it out to speed things along and make sure we'd have ample time later on to assemble our own sushi. With our rice cooked and happily cooling ready for later manipulation, we settled in for a chat about the origins of sushi and it's preparation. We were shown how to create our own seasoning for the sushi rice but I'm afraid I opted to take the lazy route and use the preprepared stuff while coming to terms with my naivety in not realising that sushi rice was typically seasoned with a mix of rice vinegar, sugar and salt.
Now it was time to get stuck into some fish prep, which Dan thankfully led from the front. We had tuna, salmon and halibut to go about after a detailed demo. We were told how to cut across to the grain of the fish and maximise the return on the piece by using trimmings to create the filling for California Roll and diced flesh for Gunkan Maki ("Battleship Sushi"). I was initially suspicious that the amount of fish allocated to me wouldn't go far enough, but I would soon be proved thoroughly wrong. We also put together a sweet rolled omelette with which to assemble nigiri. The technique for layering and rolling the egg is something I'll definitely replicate at home and it looked lovely when wrapped with a strand of seaweed to secure it to the rice.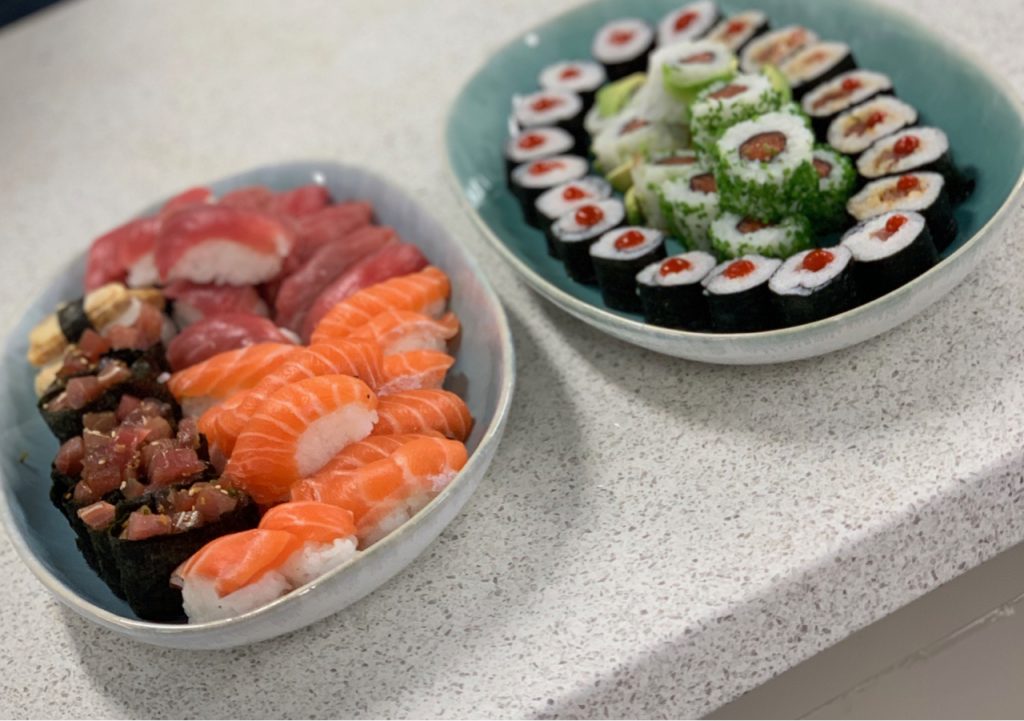 With our fish now trimmed to the appropriate sizes and shapes, it was time to start building some finished bites. With damped hands to combat the best efforts of the sticky rice, we set about building nigiri, California rolls and battleship sushi, the more adventurous of us even knocking out inside-out California rolls under the expert tutelage. We also put together some a beautiful yuzu based marinade for our halibut and a sesame dip to go with some beef fillet. Dan had quickly roasted some beef to deliciously rare for us to reinforce the point that sushi is most certainly not just raw fish, as is commonly misconceived.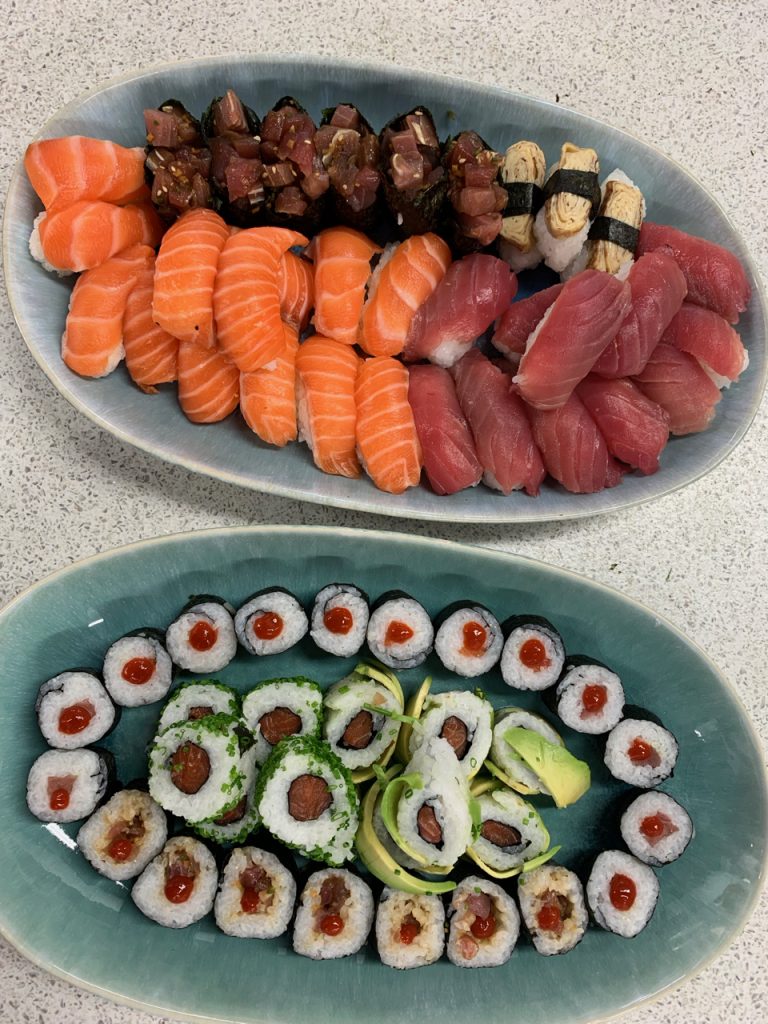 The amount of sushi I went home with rather took me by surprise and comfortably made a couple of meals for us. With a bit of effort to augment it, I could have hosted a few friends for dinner and taken an opportunity to show off too. The course comes in at £110 which feels like a very fair price for the four hours of tuition and the mound of food I returned home with. I also took great pleasure in being reminded how much I enjoy sushi and look forward to developing a sushi habit again in the near future.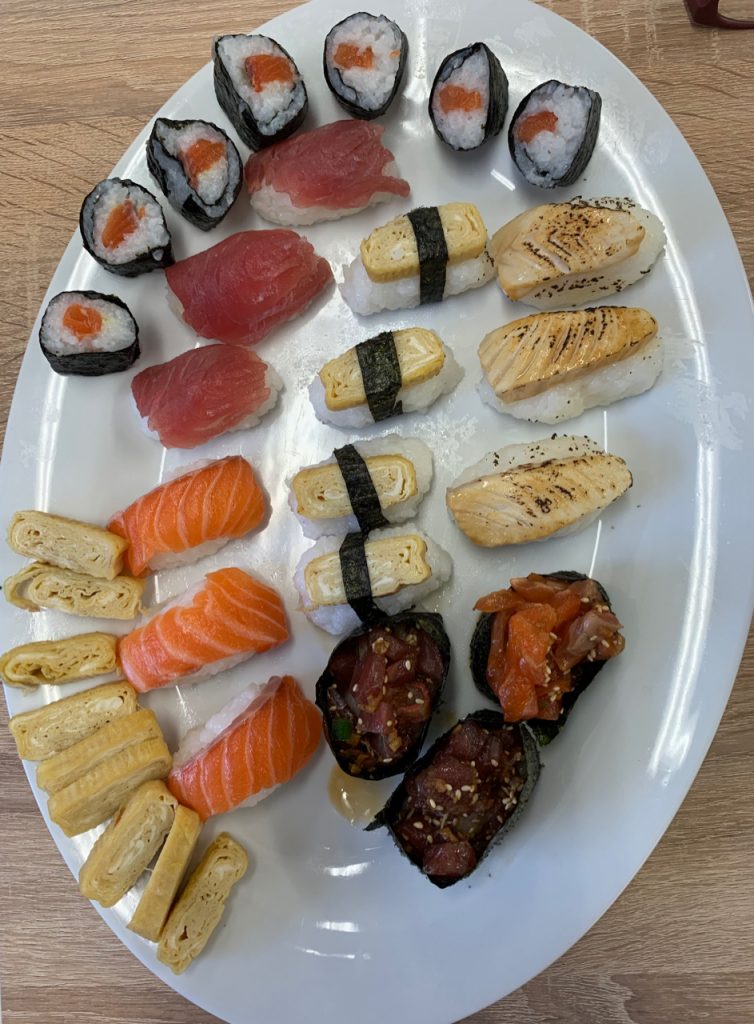 Disclaimer: No charge was made for my attendance. Opinions are impartial