I love a pun. My colleagues will (un)happily attest to my inability to ignore a cheap shot when presented with an open goal for terrible jokes but I think I've found Yorks nadir of terrible punnery with The Yorkshire Meatball Company. The Star inn the city have had people complain about the phrasing of their menu since their opening and I've been keen to defend them, I don't particularly like their Yorkshire menu puns but I've always thought it seemed a bit self defeating to let that compromise your enjoyment.
Adding to York's immaturity levels in large measure, the Yorkshire Meatball Company has taken residence in the newly built Hotel Indigo on Walmgate. The companys second establishment after a successful launch in Harrogate where the ethos is to focus on doing one thing and doing it well.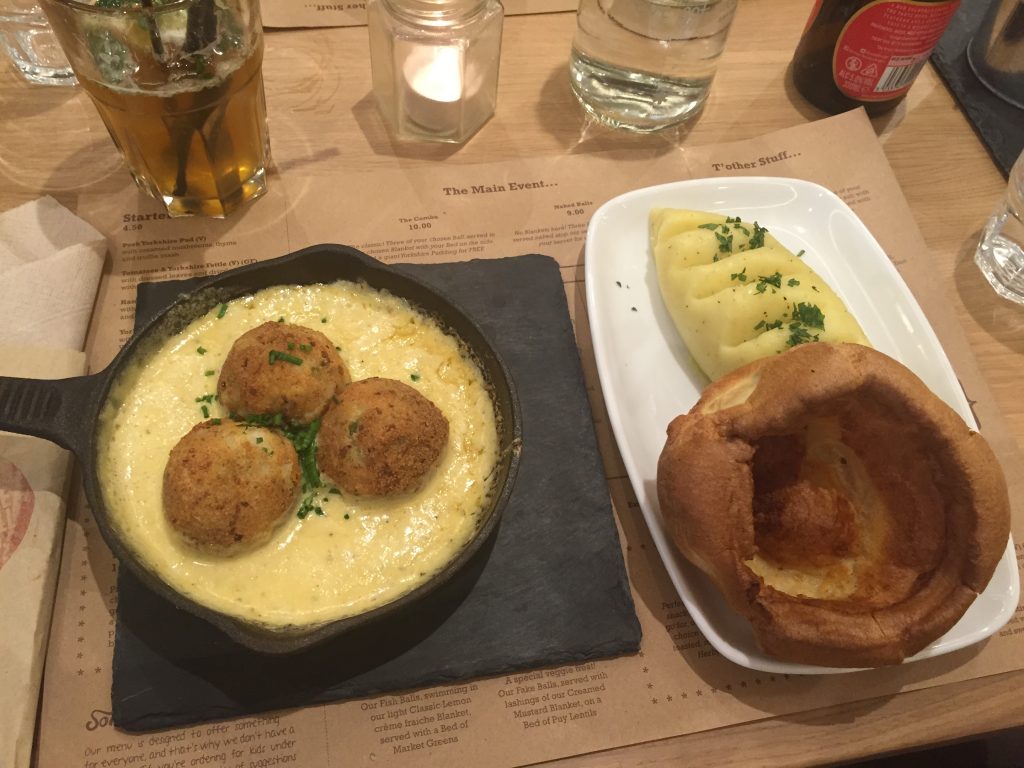 At the moment the presence is very low key with no external signage or obvious street presence. A pragmatic approach to launching a new restaurant that should give time to breath while working up to full service without jeopardising the offering.
The airy interior is smartly presented and interesting without being cluttered, it certainly doesn't feel like a generic hotel restaurant. Reviewing the menu for drinks revealed an encouragingly local selection of beers including choices from the marvellous people at Little Brew right now.
The guest Rioja was entirely acceptable and not too frighteningly priced at five and a quarter pounds a glass. Also resident in the drinks menu are 'bar buckets', a smalll selection of snacks to keep you drinking while you try and soften the impact of that immaturity I mentioned earlier. We grabbed some roasted pork rinds that were a conversation stopper thanks to the cacophonous crunch each bite echoed through your brain.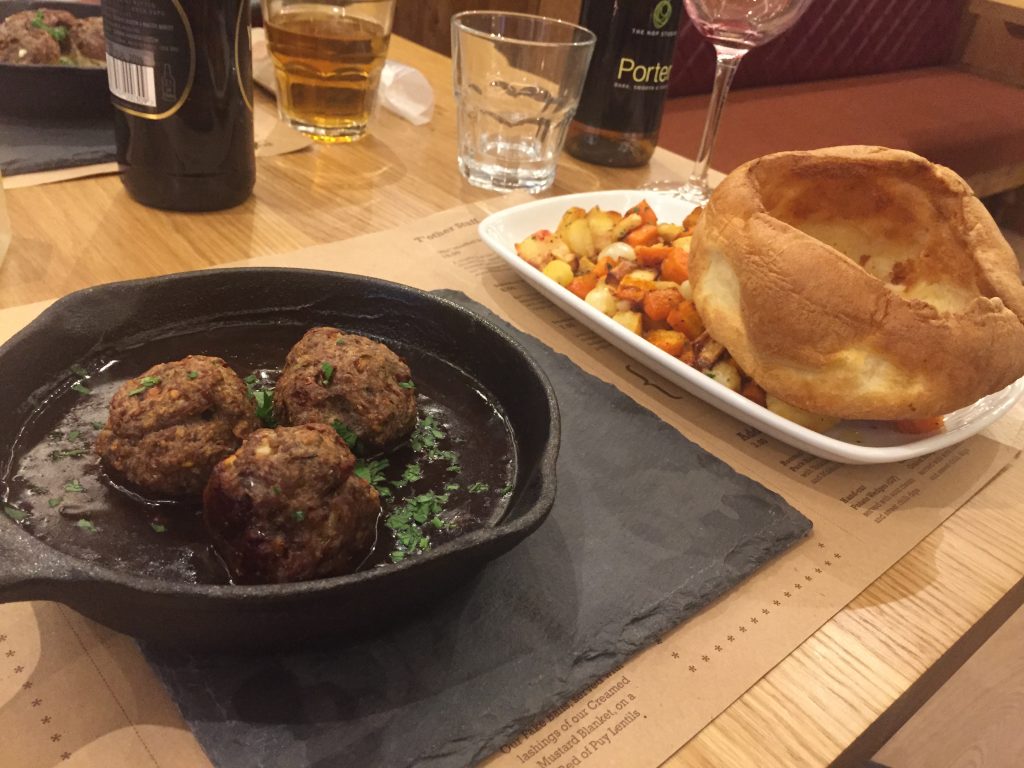 Two of the party opted for the rather unconventional 'G&Tea'. I'm no gin fan so couldn't really see the point of ruining a cup of tea by both making it cold and polluting it, but I'm informed by those better qualified to comment than me that this combination of gin and iced Yorkshire tea was a winner.
Moving onto food, we buckle under the sheer weight of punning. References to balls are so heavily shoehorned in as to be counter productive, case in point being 'squashed balls'. "Three of your chosen Ball, squashed between a lightly toasted brioche bun"…erm is that not a burger? Still, once we agreed to skip starters after our posh pork scratchings we muscled our way through the order with varying degrees of discomfort requesting naked balls, hot balls, fish balls and so on. I fear for the servers' sanity in the event of having to deal with a stag party.
Service was prompt and friendly while presentation was neat, balls being delivered on hot skillets alongside the requested 'bed'. Combining 'bed', balls' and 'blanket' was a touch impractical given those hot skillets but we managed to protect ourselves with cloths from burns and got on with it. All four of us were impressed with the food. We'd resisted the temptation to disprove the waitress's boast that every single combination worked and ran with 'Yorkshire' (pork & beef), 'birdie' (chicken) and 'fish' (um… fish) balls with beds of greens, roast veg and mash respectively and various 'blankets' (sauces) between us. I'd been concerned that limiting the menu to meatballs and variants thereof would make it a one trick pony, but there was enough variety to entirely warrant a return visit.
All the meatballs were well-seasoned and tasted of decent ingredients prepared with care. The roast veg were cooked well, just starting to caramelise, but not dried out, and the other 'beds' equally effective. My balls were certainly hearty (so to speak, I guess the punning is catching) and hit the spot. In a bid to reinforce the places Yorkshire credentials every dish can be served with a complimentary Yorkshire pudding. I had fully expected to be dismissing this as a unwarranted frippery but after all of us finished them and commented on them being well-prepared, I'd best stay away from that touch of hypocrisy.
Coming in at around £20 each was very fair and we left very happy. I maintain that the endless punning is a pain in the (smashed) balls, but reiterate the need to have a sense of humour about oneself. Fight your way through the 'balls' and enjoy the Yorkshire Meatball Company!