An adventure doesn't have to be big, expensive or distant to be impactful. As we settle further back into normality it feels like each activity we've not had to enact in a couple of years can almost be an adventure in itself, let alone anything unfamiliar. With that low bar, the prospect of taking Little Fork on any train ride was an exciting one for her – even if the duration would be less than ten minutes – as we framed a justification for her to take a journey to Poppleton for a meal at The White Horse.
My interactions with Poppleton have been, at best, minimal over the years with it existing mainly as a stop on the train to Harrogate in my conscience as well as an occasional venue for kids parties. All the more reason to turn an invitation to dine at The White Horse Poppleton into a day trip and a minor adventure. If you're unfamiliar with this train ride, it really is as brief as it's possible to undertake on the periphery of York, barely taking 5 minutes to complete from York. Poppleton station is on the edge of the village and a short walk from the centre, which features an attractive maypole amongst a good amount of green space. All village greens should be in close proximity to a decent pub, in this case The White Horse. New to me, I gather that this place has been a well regarded village fixture for a good number of years though I also gather is under new management, with Chris & Maria taking the reigns of their first pub.This may be their first pub but a background in managing large events suggests no naivety about what this will entail.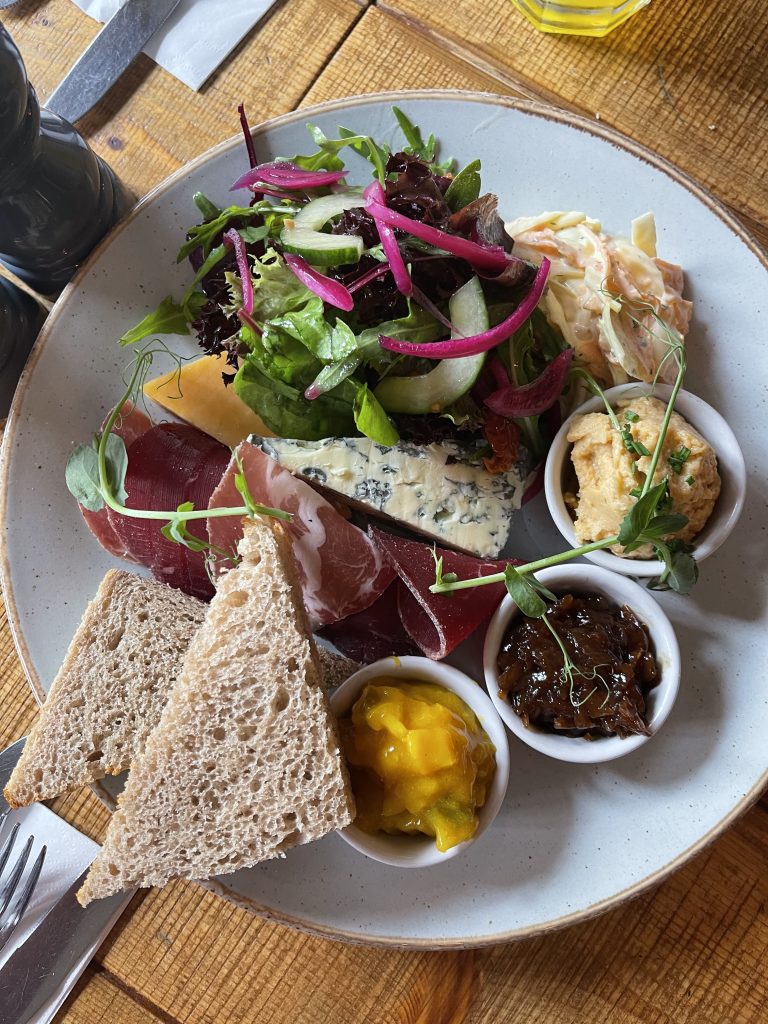 As we arrived for lunch on a Friday, there was a decent buzz around the place, with some groups dining while a few people had evidently knocked off work early for a pint or two. The dining area was segregated enough from the main bar to enjoy a slightly more formal dining experience though enough of the atmosphere from the main part of the interior spilled across to stop it feeling more formal than one would want of a pub. The menu hit the right notes with a bunch of pub classics joined by a few more unusual dishes that we wanted to sample. Mindful of appetite, we started with a Ploughman's lunch from the small plate/starter menu that arrived briskly along with chicken and chips from the children's menu that would be picked over at varying paces throughout the meal to satisfy Little Fork. The platter was a hearty opening salvo that added piccalilli, chutney, coleslaw and hummus to a selection of meats and cheeses along with bread and salad. In truth this would have made a decent lunch for one which would backdrop a couple of pints and a Sunday paper perfectly. Often with dishes like this there's an obvious corner cut or suspiciously familiar feeling item one suspects has come from a supermarket but everything on this plate was good quality with each element delivering what one would hope of it, the cured meats in particular being top quality.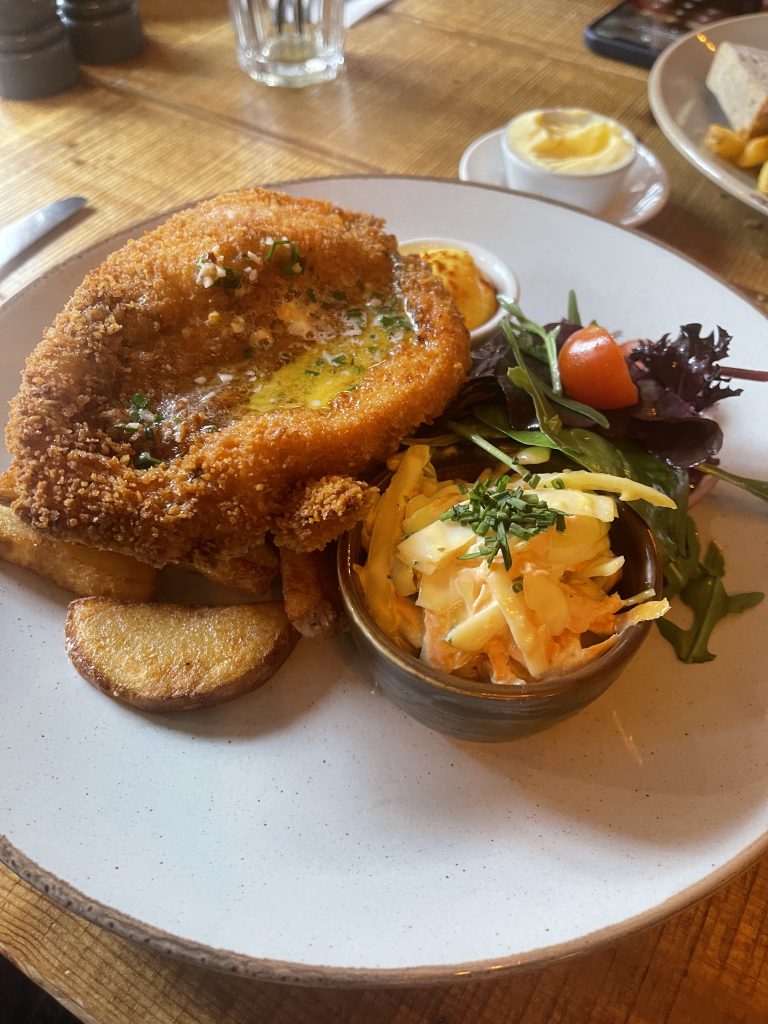 From the list of main courses, a chicken schnitzel had caught my attention while from the more predictable pub dishes we went for an old faithful sausage and mash with onion gravy – a dish that leaves little place for its ingredients to hide. Thankfully each element was more than able to stand on its own two feet with a trio of plump sausages adorning rich, buttery mash under a thick onion gravy with a generous helping of vegetable on the side. This was serious portion comfort food to satisfy even the most impressive appetite! As the schnitzel arrived, it immediately looked like an indulgent dish thanks to an appealingly large amount of garlic butter pooling in a central indentation. Frankly the side salad on this one was never likely to get too much of a look in with an entire chicken breast showing an invitingly golden crumb softening under that appealingly pungent garlic. Chips and mayo with a sharpening of spice completed the dish along with a ramekin of coleslaw.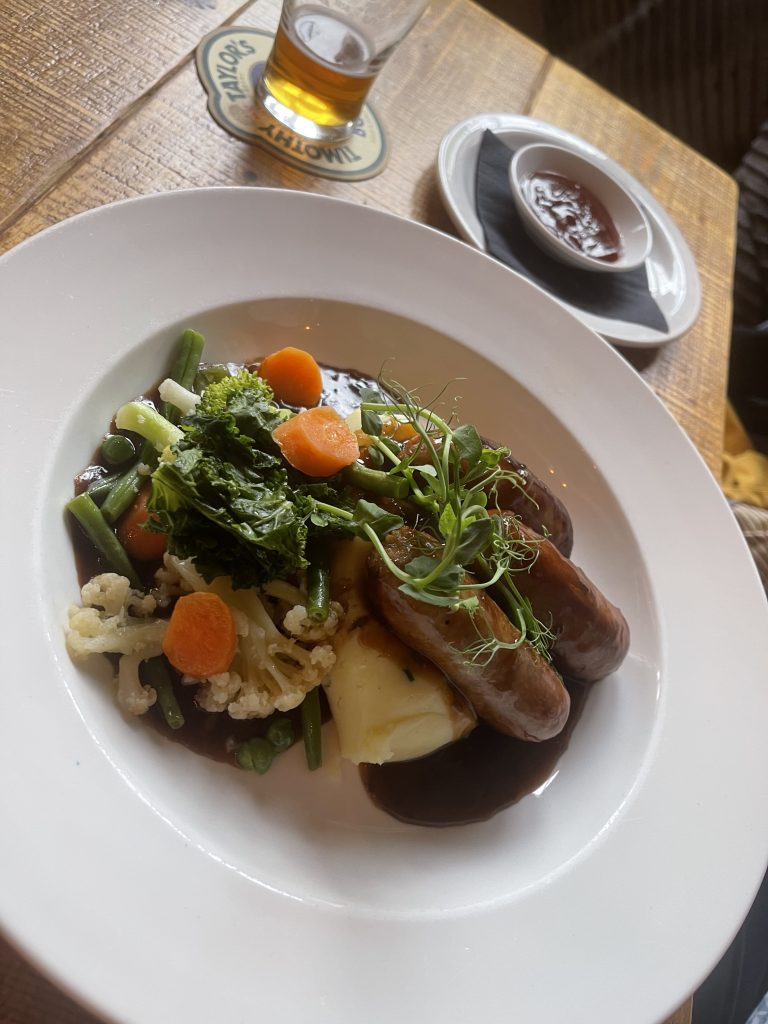 Our earlier decision to share a starter had been intended to pave the way to share a dessert but by this point proceedings had somewhat overtaken us and there was little possibility of eating more in the short term. Thankfully Maria forced a brownie on us to enjoy later but any more indulgence would have made the walk back to the train station more of a challenge than it should be. These small excursions might temporarily feel more like an adventure to us jaded adults, and perhaps that's why it's easier to imagine our way into the wonder that these jaunts bring to our children. Either way, a 5 minute train ride followed by a pint, a schnitzel and a ploughman's is an easy adventure to sell me on and I'd be more than happy with The White Horse as my local.
(Disclaimer – PR visit)