It's safe to assume that I witter on about food and restaurants an awful lot, occasionally to the detriment of my close friends and relations. I'm frequently nudging whoever is nearby to point out whatever interesting titbit has just caught my eye on social media, observing details of presentation and technique of varying interest to my audience. Some of this clearly sticks though as for my recent *significant* (alright, 40th) birthday, I was presented with a voucher for Vice & Virtue in Leeds.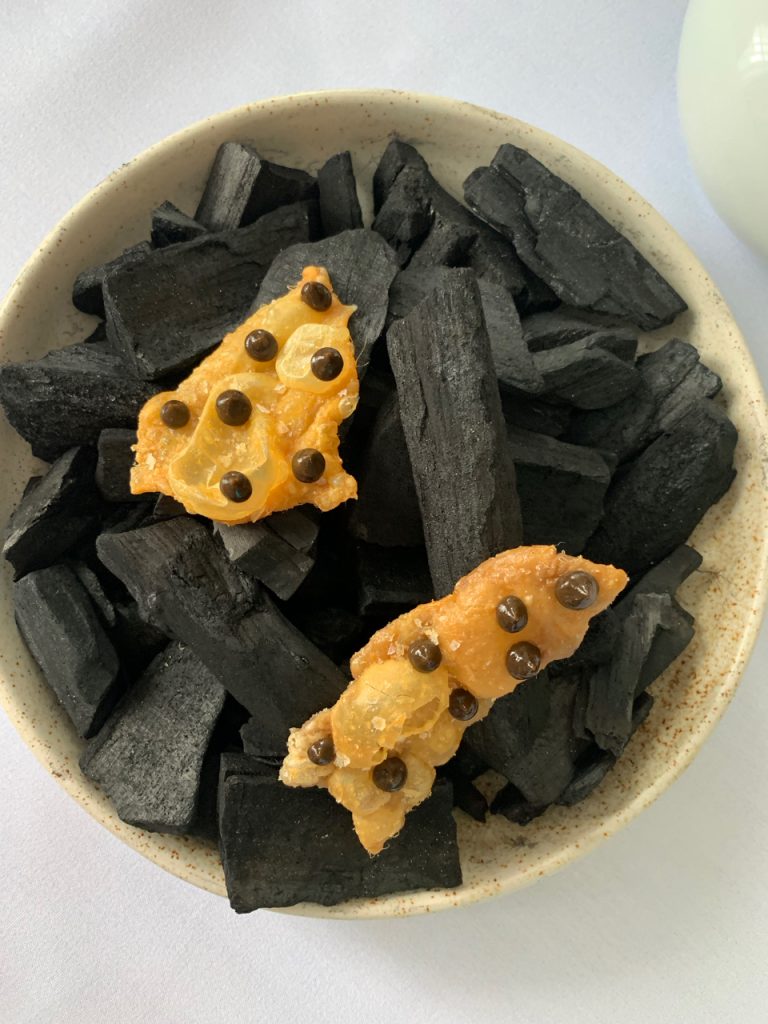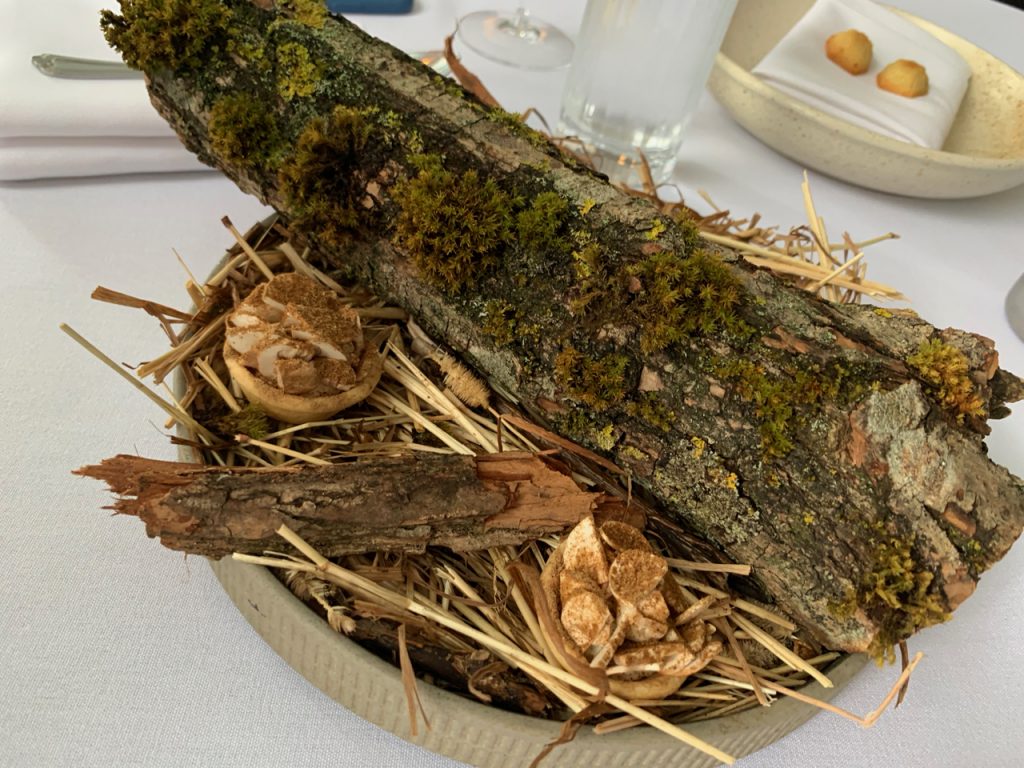 Vice & Virtue is the fine dining flagship of the small group of restaurants headed by Luke Downing and featuring food from Head Chef Jono Hawthorne who, after building his reputation with such exploits at XO Supper Club, has left his mark on fellow group restaurant Dough before setting about the fine dining menus here. I've had the pleasure of eating Jono's food a few times, and his plating and dishes had obviously caught my attention, prompting enough comment from from me to elicit that voucher purchase.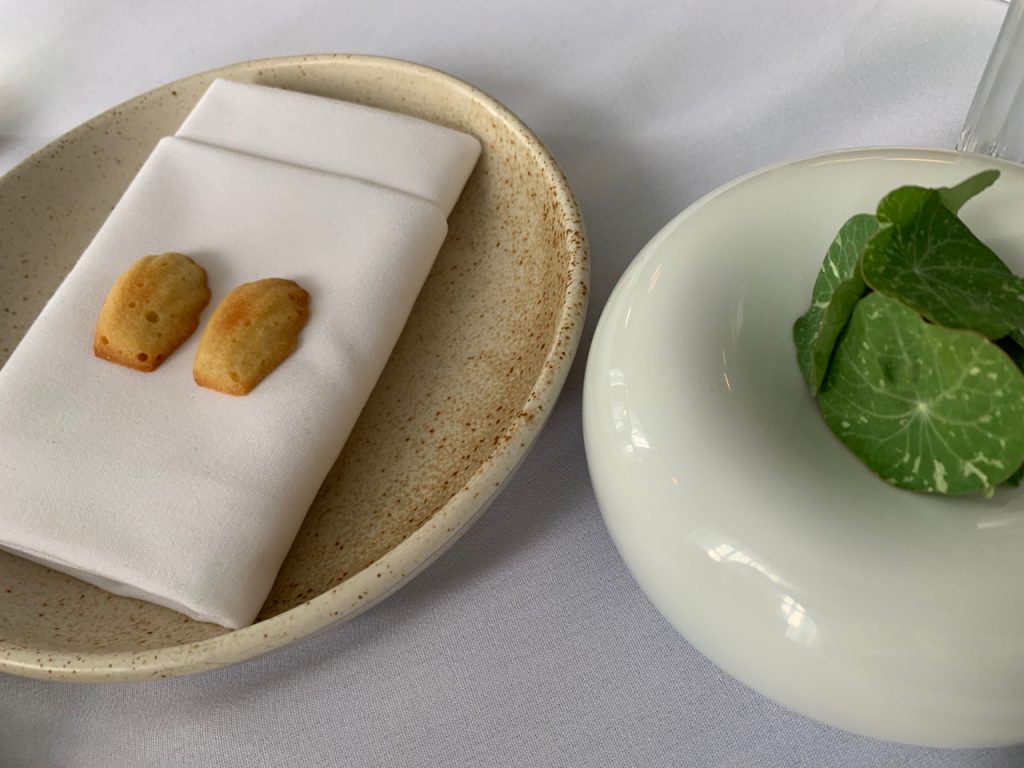 We visited on a Sunday lunchtime to try out the tasting menu and found ourselves with the second floor restaurant pretty much to ourselves. Incidentally, the first is focussed on cocktails, something that V&V is equally reputed for with it being recently voted 9th best cocktail bar in the country. Comfortably seated, we started on some snacks to set the scene for the coming feast.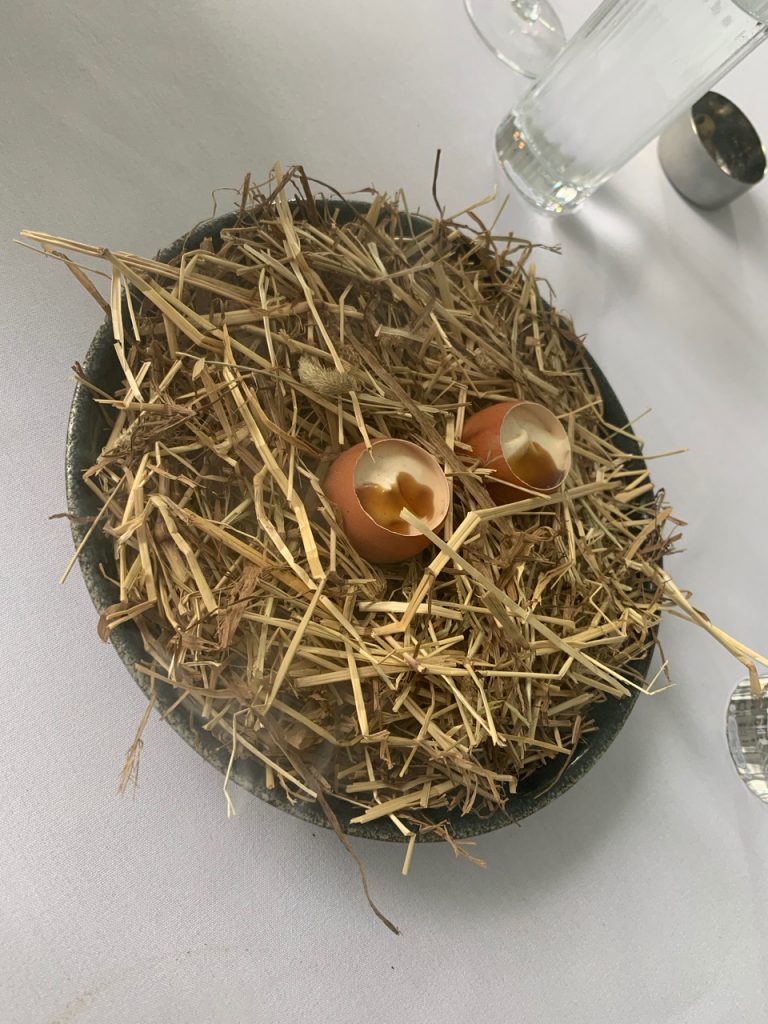 First up, pieces of crisp chicken skin cut through with pickled walnut to balance sharpness and fat far better than oily executions I've been served before, then a log of wood (not edible, though I didn't risk my already ravaged fillings checking) gave penny bun mushroom and truffle tarts a place to nestle. This is exactly the kind of exuberant presentation that offends those looking for irritation but, having been served pate in a garden trowel before, I don't find this is where I draw the line. Whatever issues you may or may not have with the presentation, truffle and mushroom is always a winner when the mouthful is as pretty at this one.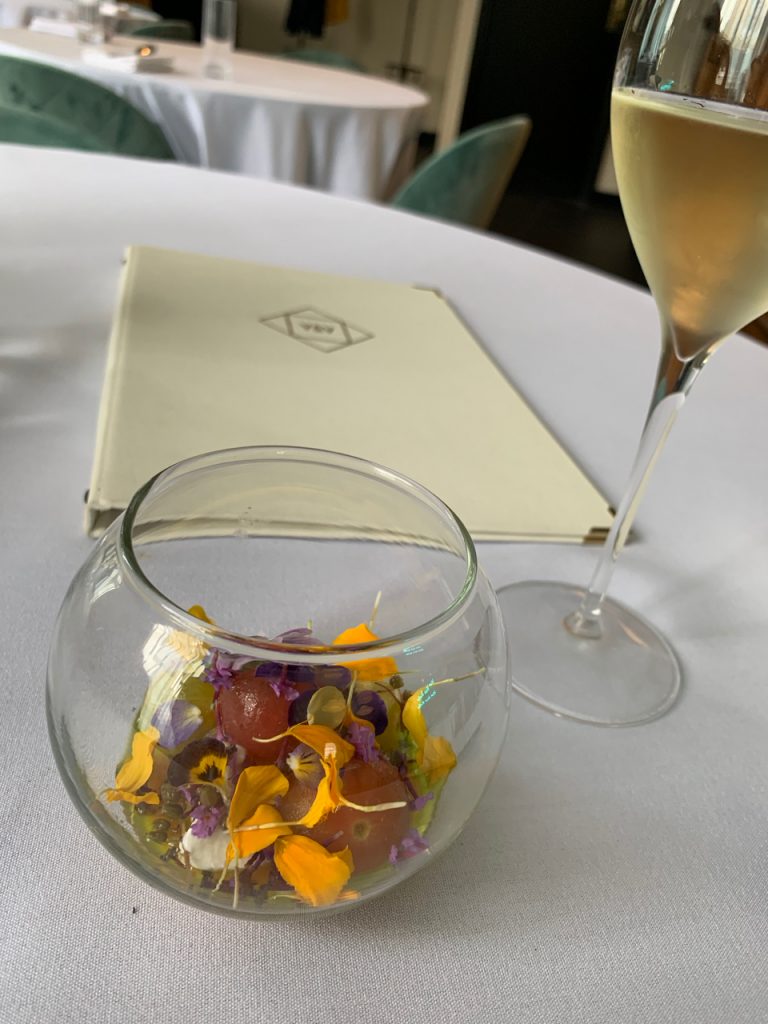 Star of the appetisers was the combination of duck liver parfait served with lingonberry and a Madeleine with which to scoop up the parfait. A shroud of nasturtium leaves is temptation for our fingers and a few bites that encourage us inwards to scoop up the sweet berry and superbly realised parfait with the Madeleine. Meals such as this are a chance for a chef to show off and the early signs were promising. Showing off remained the operative theme for the next few mouthfuls as a smoke filled cloche arrived at the table with a pair of chef Jono's take on the L'Arpege Egg. Taking its name from the restaurant in which it was created, and popularised in Yorkshire by the fabulous Le Cochon Aveugle, this was a lovely interstitial course to reset before getting into the, figurative, meat of it.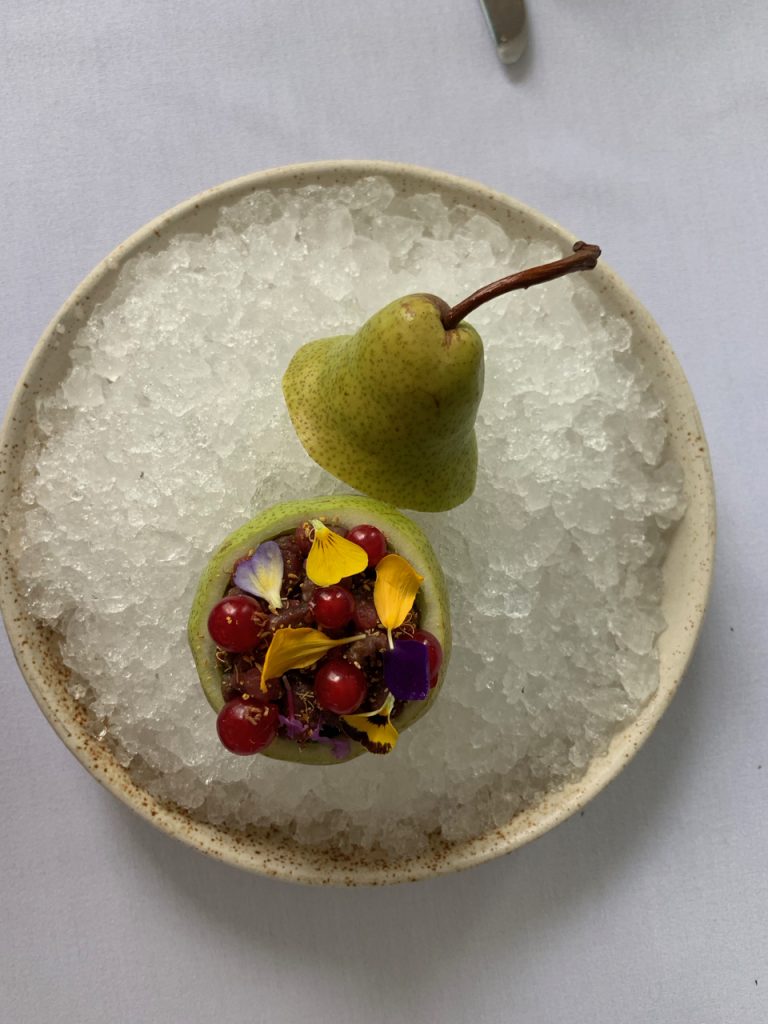 Centre of the next dish were tomatoes presented over goat's curd with plenty of edible flowers for embellishment. Rowan berries brought spikes of flavour to the fresh tomatoes and we were soon onto the next course. This first meat course was a tartare of venison served in a hollowed out pear on a bed of ice, of course. A few petals and and berries gave further breadth to the presentation, but didn't need to distract from the beautifully earthy meat. I'm a sucker for a tartare so this deeply earthy meat did the trick for me. In fact, I could happily have dispensed with the fripperies.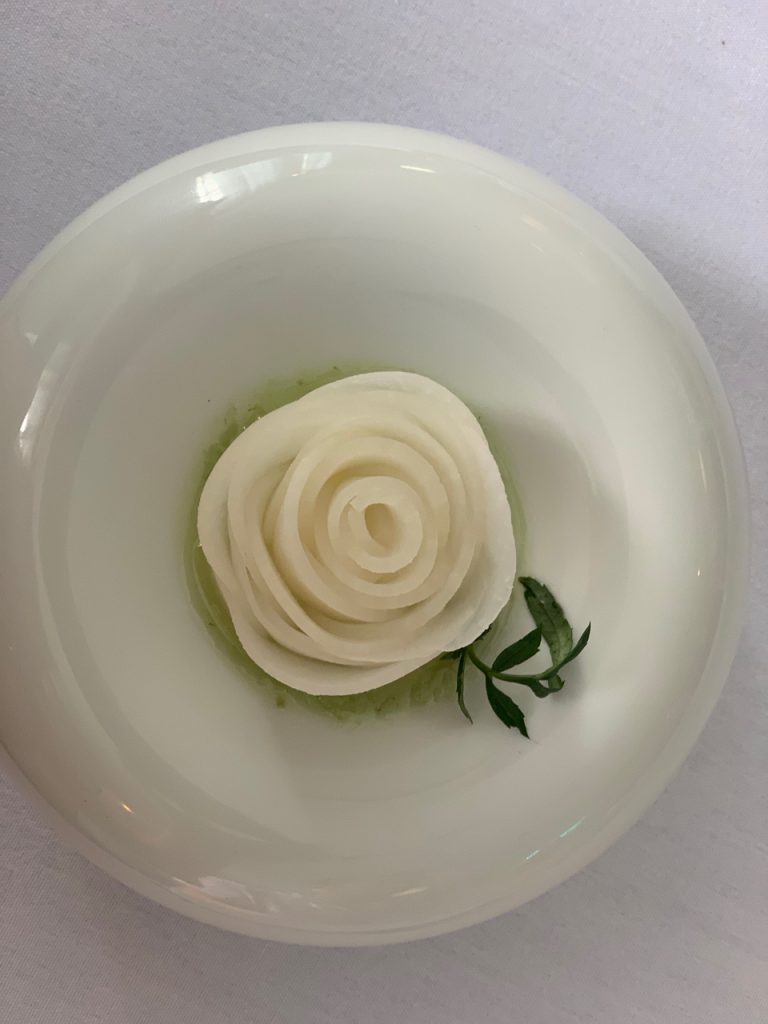 Moving forward, we were served another visually arresting dish. A Yorkshire rose constructed of pickled turnip and seasoned with strawberry vinegar that needed nothing more to draw the eye to it. I felt like the pickling was a touch aggressive, but it was still a refreshing few swallows to break up the more substantial courses.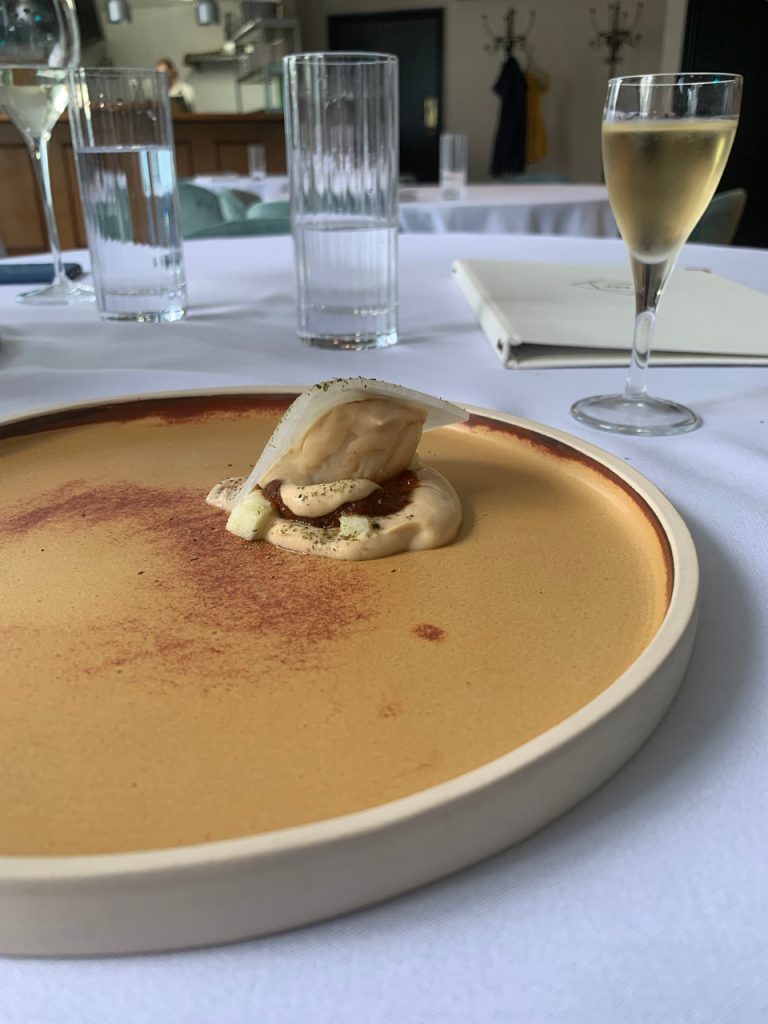 We stuck with seafood for the next course, centred on scallop this time with caramelised cauliflower, a salami jam and more of that pickled turnip. The turnip balanced better this time with something to take the edge out of it thanks to that salami and cauliflower, though perhaps it overwhelmed the scallop a touch. This one was more conventional but none the worse for it.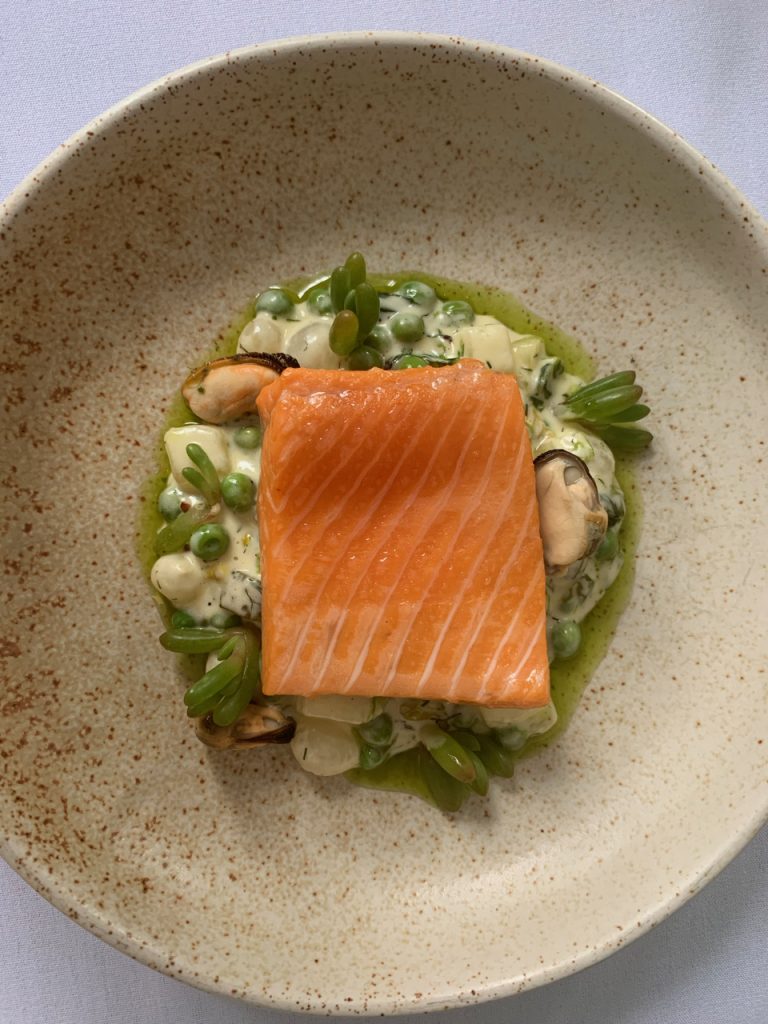 Our last fish course was a perfect square of sea trout sat atop tartare sauce with lightly pickled mussels and sea vegetables including the superbly named "salty fingers". By now, we were appreciating dishes with a few more elements and that growing complexity let the flavours fill out the plate. The pickling on her mussels showed a real lightness of touch that balanced with the tartare sauce to let the fish show itself off.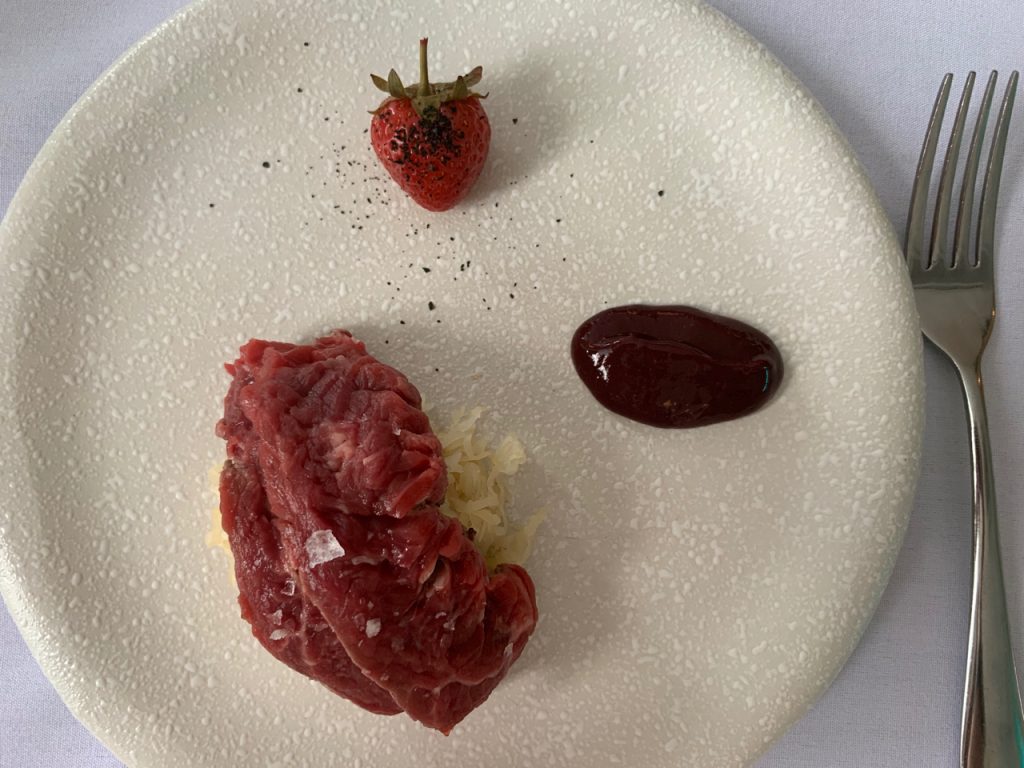 Onwards now to a meat course featuring aged ribeye on a bed of sauerkraut with violet mustard and a sharply flavoured strawberry. Presentation for this one was divisive, the meat presenting a raw side while the seared sides of the two pieces resting against the sauerkraut. As my steak tartare fixation demonstrates, I've no qualms about raw meat, but I didn't feel like this presentation did the cut justice. Nonetheless, The bold flavours worked and we were soon moving toward sweets via a few mouthfuls of compressed watermelon to refresh the palate.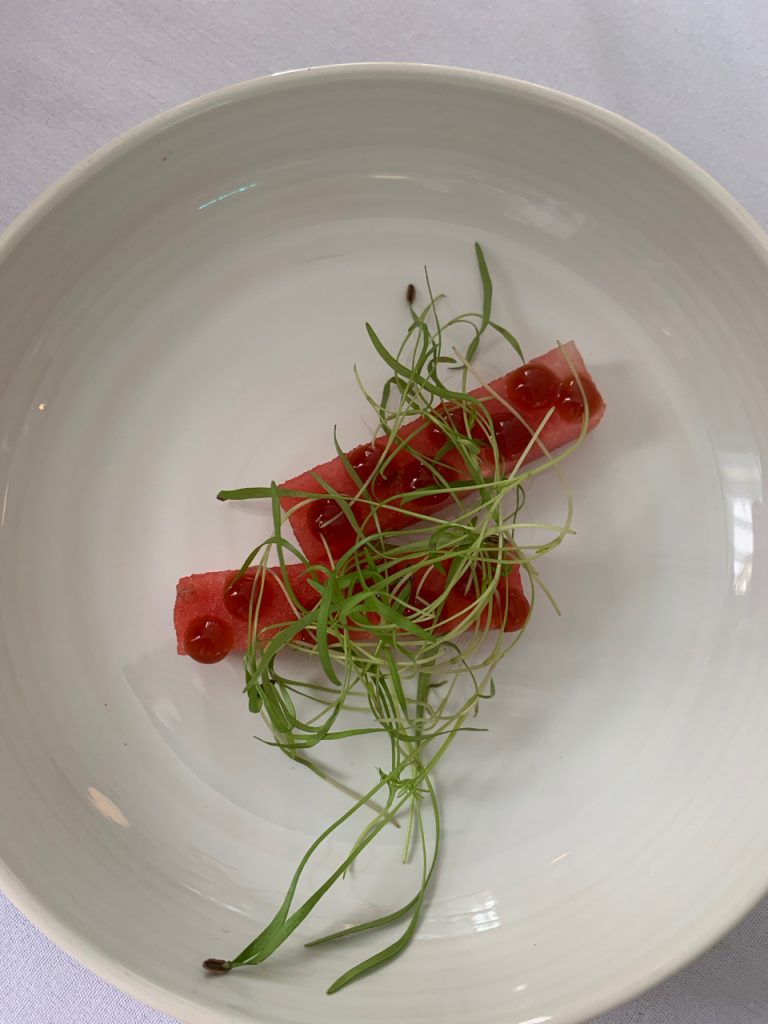 Over the years I've had some unexpected flavour combinations, but every so often I'm taken thoroughly by surprise. It's a huge pleasure when that happens and the next dish came totally out of left field. I've no particular affection for almond, but as the headline ingredient of a Financier that's topped by honey truffle ice cream, that's quite another thing. Throw a smear of Yorkshire Blue Cheese into the mix too and it's transformative. By this point, we were struggling with our appetites, but the salt of the blue cheese channelled by the cake and tempered by the sweet/savoury ice cream combo was quite special. This joins oyster and mustard as a memorable ice cream.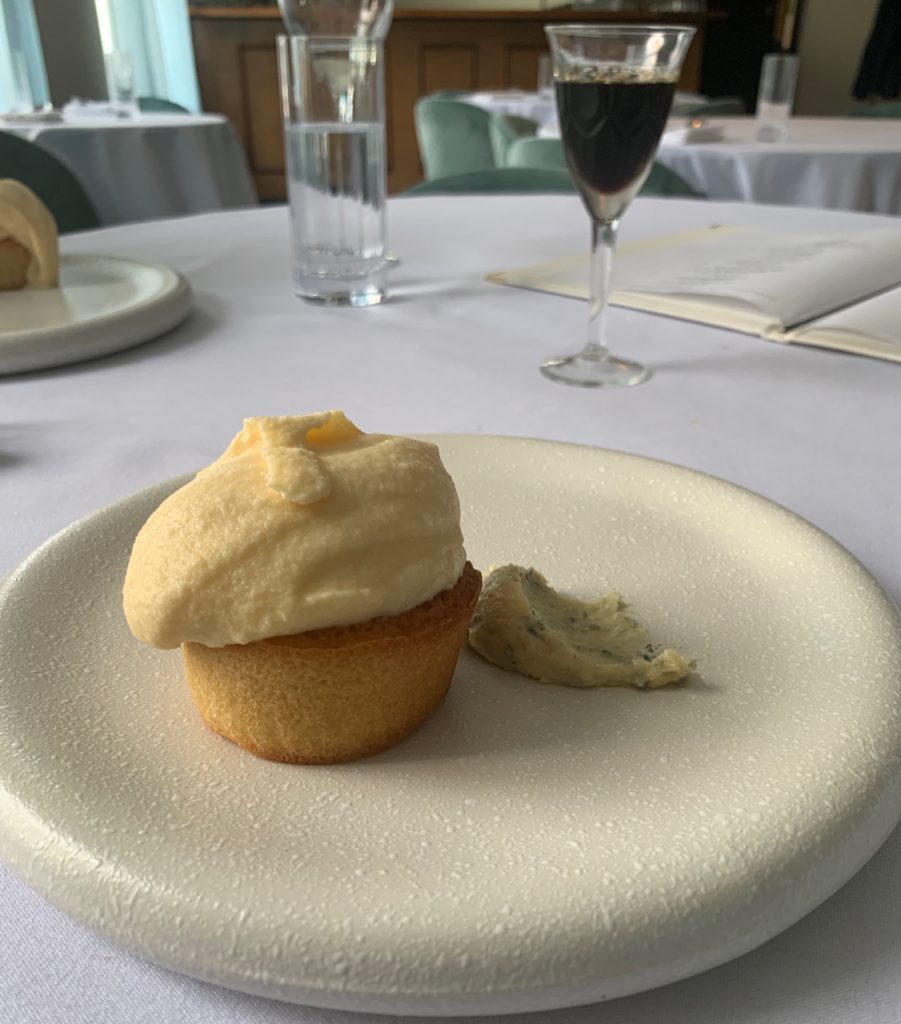 The meal finished with blackcurrant leaf ice cream that I'm afraid to say left little impact on my memory by virtue of the previous hour's notable consumption. That doesn't imply criticism of the dish so much as my appetite. The shard of meringue topping it continued the theme of beautiful presentation though. That said, if you're worried about being overfaced by the tasting menu here, please be reassured that Chef Jono was taking the opportunity to show off to a mate…you may not be pressured into the amount of food I describe here!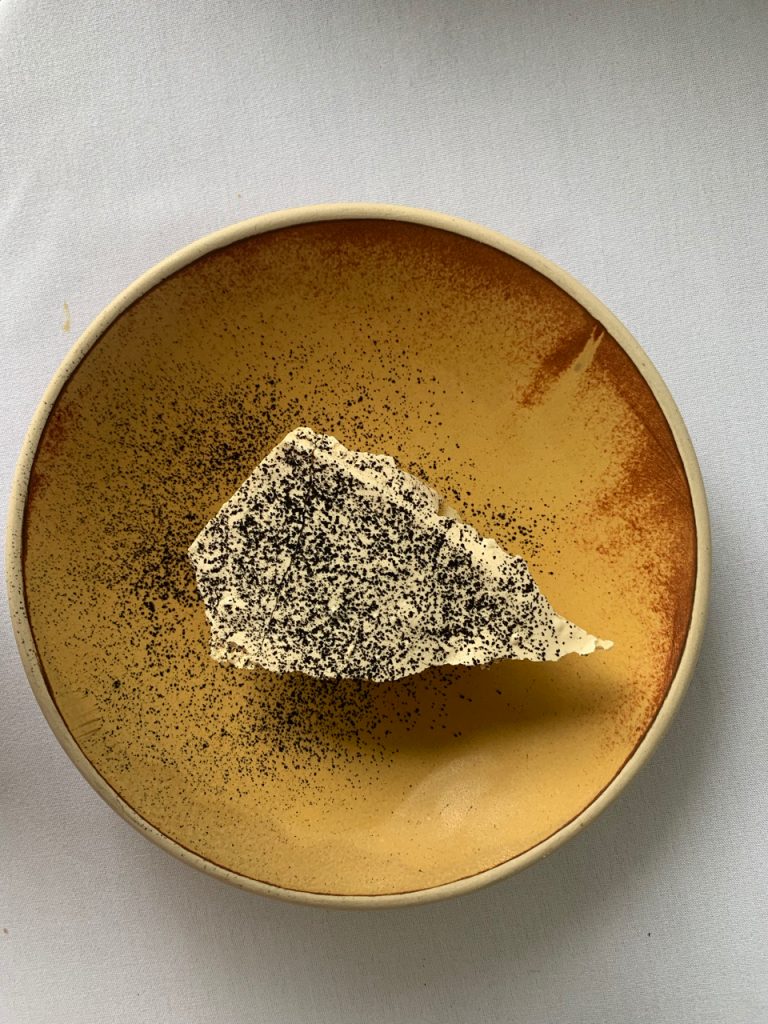 So did the plating that attracted my attention live up to the billing? Yep. I'd have made a couple of changes to a few dishes but none to the experience. There were stand out dishes to support plenty of memorable moments so this one will stick in the mind for some time. It's pretty clear there's more to come from V&V and Jono, I'm looking forward to following the ride.